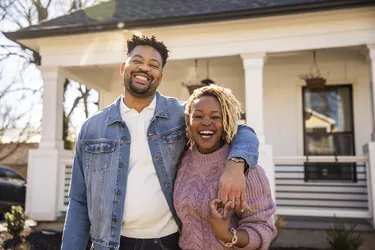 While spring and summer are when your house's curb appeal really pops, it's essential to have an annual landscape plan that covers every season. You can make sure your front yard and backyard have natural beauty and points of year-round interest without performing constant maintenance.
The Attraction of Curb Appeal
From standard lawn care to hiring a landscape designer for upgrades, most realtors recommend some level of attention to curb appeal to enhance real estate's attractiveness and selling potential.
Curb appeal makes homeowners feel good too. In the same NAR survey, homeowners reported "Joy Scores" of 9.0 or higher (out of 10) after completing their curb-appeal-related projects.
Your home exists in the outdoor environment 12 months out of the year, so you want to find a balance of plants, hardscaping and design elements that work together to provide curb appeal the whole year through.
In the ideal scenario, most of these elements should be as low-maintenance as possible. You don't want to do significant replanting every spring or end up with prominent bare spots each winter. So, you'll want the right mix of plants, trees and shrubs to ensure you get spring blossoms, summer blooms, fall color and evergreen beauty.
Hardscaping items, such as raised flower beds, pavers, fences, trellises and other features, help provide consistency, structure and foundation for your garden design and curb appeal.
A thorough spring and fall clean-up is a key part of any year-round curb appeal plan. Tidying up at these two key times makes the garden look good and gives your plants a great start for the new season.
Other hardscaping features of your front yard landscape include your front door and front porch.
Mixing Perennial and Annual Plants
Flowerpots and hanging baskets with bold, bright annuals have their place in every garden design. But these flowers need to be replaced every year. To counterbalance that annual chore, you'll want to have a foundation of perennial plants, trees and shrubs that come back year after year.
Trees and shrubs are the foundation plantings of curb appeal. If you don't have large trees around your home, consider working with a landscaper or arborist to decide which trees to add.
Evergreen shrubs, juniper, boxwood shrubs and conifers provide the year-round green that will complement your home through even the starkest winter months. They also help create a natural privacy screen between you and your neighbors.
Deciduous trees, such as oaks, maples, birch and ash provide gorgeous fall color. Flowering trees, such as crabapple, dogwood and magnolia, provide the first pops of spring color and remain green throughout summer.
Greenery and flowers that come back each year provide consistent and low-maintenance beauty. Perennial hydrangeas, hostas, myrtle, lavender, ornamental onion and switchgrass are just some of the perennials, border plants and groundcovers that provide color, greenery and shape in and around your garden beds.
If your garden design is do-it-yourself, you'll want to scope out the sun in your yard. Which planting bed areas are shady, sunny or a mix throughout the day? Choose your full sun and shade plants accordingly. And of course, if you have any bald spots in your lawn, get that replanted with grass seed in late spring or early fall to help the new grass take hold.
Choosing Hardscaping Design Elements
No curb appeal or garden plan is complete without the nonliving design elements that add character, structure and year-round charm.
Stones, bricks and pavers are effective in making attractive paths or steps. Make sure any plantings around the path will bloom or show greenery at different times of the year.
In the backyard, outdoor sculptures, urns, landscaping lighting, trellises and other structures provide year-round interest when paired with plantings that complement them throughout the seasons.
Other hardscaping features of your front yard landscape include your front door and front porch. A well-maintained, freshly painted porch and entry are like hanging a "Welcome" sign on your home and can add a warm focal point to your home's curb appeal.