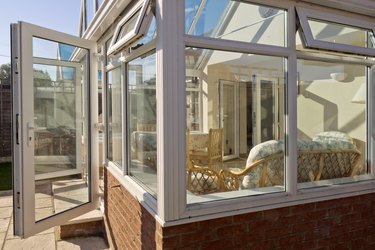 Sunrooms are porch enclosures that feature fully insulated walls, flooring, ceilings, doors and windows. This type of home addition project can add to your house's value as well as allow you to invite natural daylight into your house. The sunroom addition allows homeowners to enjoy all of the benefits of being outside without all of the drawbacks, such as insects and inclement weather. If you are adding a sunroom to your home, it may cost thousands of dollars to build.
Overall Average Price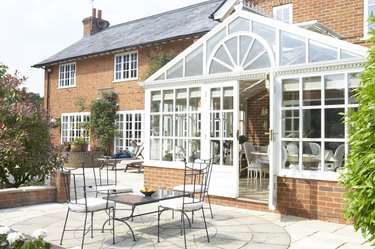 Most home room enclosure additions are expensive projects, but sunrooms are generally cheaper to add than other types of rooms. According to RemodelingMySpace.com, the average cost for a sunroom addition is generally between $12,000 and $70,000, compared to the cost of other types of room additions which cost between $30,000 and $80,000 on average. Adding a sunroom to an existing structure typically costs between $125 and $150 per square foot, which includes materials, installation, construction and tear-out work. The overall cost depends on where you live, the size of the new sunroom and the features you desire. According to Remodeling Magazine, the average cost of a sunroom addition was $73,167 in 2009-10.
Prefabricated Sunrooms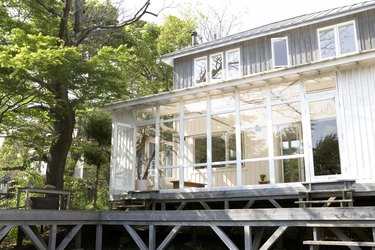 Some manufacturers have prefabricated sunrooms for sale. These types of sunrooms are typically less expensive than customized sunrooms that are designed with the owner's preferences in mind. According to Costhelper, four-season prefabricated sunrooms can cost as much as between $60,000 and $70,000. The difference between four-season and three-season sunrooms is that four-season versions are temperature controlled. If you live in a moderate climate and want the less expensive three-season sunroom, it can cost between $15,000 and $35,000 on average.
Customized Sunrooms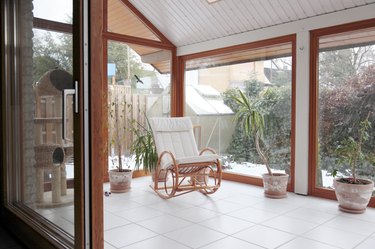 According to Remodeling Magazine, the average cost for a 200 square foot customized sunroom is between $66,000 and $84,000. This price range typically includes the costs for a slab foundation, framing and insulation construction. It also includes glass windows with screens, tile flooring, window shades and ceiling fans. Homeowners who want their sunroom to match the rest of their home décor may opt for this type of sunroom project.
Other Considerations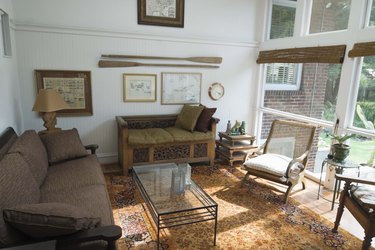 Homeowners who want additional features in their sunrooms should allot extra money in their overall budgets. For example, skylights may cost around $900 for the skylight and $300 for installation for a grand total of $1,200 per skylight, according to 345 Build. Other pricey additions include extra electrical sockets, cathedral ceilings, remote-controlled shades, extra beams and custom tile work or flooring.