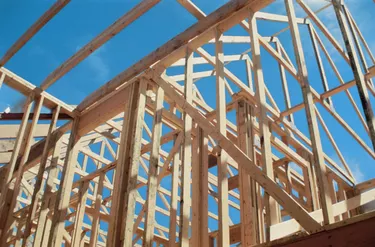 While many people buy existing homes or hire contractors to build them, some opt to build their homes themselves. When it's done correctly, building your own house can save sometimes substantial amounts of money, perhaps 15 percent or more compared with buying an existing home. Building your own home can also be an attractive proposition because it allows you to build it to individual specifications.
Financing Your Building Project
Unless you have sufficient cash, you'll need financing to build your own home. Credit unions and regional banks are common sources of home construction and pay-as-you-go building loans. Before they approve home construction loans, lenders ensure that applicants have land or solid plans for acquiring land, as well as valid plans for building their homes. Your lender will also request construction contracts from any subcontractors you use to help build your home and will closely monitor the progress of your project.
Think Like a General Contractor
Think like a general contractor when it comes to building your own house: Plan everything in advance. Base your home's building cost estimates on your architectural plans, accurately estimate materials and labor needed, and lock in quotes for all materials. After planning is complete, order your home's building materials and then schedule them for delivery. You'll also need to obtain permits and approvals, hire subcontractors, schedule required inspections, and track incoming bank funding and outgoing payments.
Sweat Equity and Subcontracting
You can save money when building your own house through "sweat equity," such as painting the interior yourself. Ensure that you have the skill and time, though, before taking on any do-it-yourself projects in the home you're building. Electrical, plumbing, certain carpentry, and heating and cooling projects could require skilled subcontractors. Work closely with the subcontractors helping to build your house and never sign off on payments until all work is satisfactorily completed.
Appraisal and Final Mortgage
A construction loan isn't actually a mortgage. Once you've completed your home building project, the lender financing it will require an appraisal. Your mortgage lender needs an appraisal of your new home to ensure that it's worth the money that was loaned to build it. After your lender is satisfied that the house you built is worth the money it loaned, the lender converts the construction loan to a mortgage, usually adding on various financing costs.
Building a Kit Home
Kit or prefabricated homes have been around since 1906. A kit home is designed and manufactured off-site and shipped to you so that you can build it. Many kit homes are low cost and also precision cut, but you may need to outfit them with interior finishing items such as plumbing, cabinets and light fixtures. A kit home itself often contributes about one-third to the total cost of building a home, with the other two-thirds driven by other material as well as labor costs.