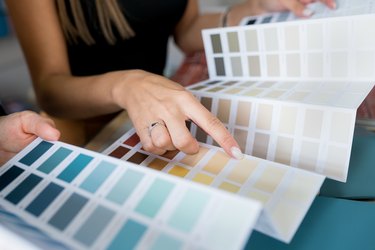 The effect that interior paint can have on a room and its décor goes way beyond its color. Paint finish is the added touch that makes the original paint shine or appear cozy. The catch is that there are numerous types of paint finishes to choose from, each with its own pluses and drawbacks. No single finish is perfect for every room.
Paint finish is applied on top of paint, as the name suggests. It effectively controls how much light reflects off the original paint (referred to as paint sheen) and it enhances paint color. Different types of finish can result in high gloss or shine or no shine at all. More shine lends itself to easy cleaning and durability.
Finishes can and often are used in combination, imparting different light to walls, baseboards and doors. You wouldn't necessarily want to use the same finish on all these components of a room because you'll want them to contrast with the walls.
Finish Types and Best Uses
Various paint finishes are best suited to a specific room or target. High gloss paint finish is popular for a few reasons. It's easy to keep clean, stain-resistant, highly durable and, yes, shiny. It imparts a glass-like appearance. That makes it ideal for parts of the room you want to stand out, such as cabinets and doors, but it may not be preferable for walls. The shine makes it less than ideal for hiding bumps, cracks and other blemishes, and it can be difficult to apply.
Paint finish can make or break a room when each type is used to its best advantage, and it can be worth an extra dollar or so per gallon.
A semi-gloss finish is one step down on the most-shiny scale, with a little less impact than high gloss. Make no mistake, though – it is shiny. This means it tends to accentuate rather than hide imperfections. That said, it's moisture-resistant, easy to keep clean and highly durable so it works well in kitchens and bathrooms. It's also a nice touch for trims and doors.
Satin finish is exceptionally durable, and it can hide blemishes like bumps in the wall. It's easy to keep clean, and it works well in dark areas that don't get a lot of light. It also tolerates humid conditions pretty well. You might consider this one for a windowless bathroom or basement.
An eggshell finish is somewhere between shiny and matte paint, a polite way of saying that it's flat and dull. It has a somewhat velvety appearance. This one is thought to be good for busy areas, like living rooms. It cleans up easily. It's stain-resistant and durable. That can make it a good choice for a kid's room.
Flat paint finishes are bested suited to rooms that have a good bit of light exposure because they're nonreflective. You probably won't want to use this one in high-traffic areas, however, because flat finishes are more porous, so they're more difficult to keep clean. It hides blemishes well, but it doesn't stand up well to humidity or mildew.
What Does Paint Finish Cost?
The basic rule of thumb is that the shinier versions of paint finishes – gloss and semi-gloss – are more expensive than the duller varieties, such as eggshell. But the difference isn't too prohibitive, usually in the range of ​$1 to $2 per gallon​.
Then there's the matter of getting it on those painted surfaces. Glossy finishes tend to be more difficult to apply and you might not want to tackle the job yourself. Add on the cost of a professional painter if you decide to go this route.
And it's only one component of the painting process. The average national cost to paint a room was ​$1,892​ at the end of 2021, according to Bob Vila.
Is Paint Finish Worth It?
Paint finish can make or break a room when each type is used to its best advantage. It can brighten up dim, interior spaces and add dimension to cramped, smaller spaces. The right paint finish can stand up to the well-intentioned abuse of your kids in the playroom and help hide a host of imperfections.
In most cases, it can be well worth an extra dollar or so per gallon, but it's a matter of your budget and personal taste. And nobody says that you must finish your whole home. You might want to make the investment in your kitchen, dining room, family room or living room, but the basement? Maybe not so much.