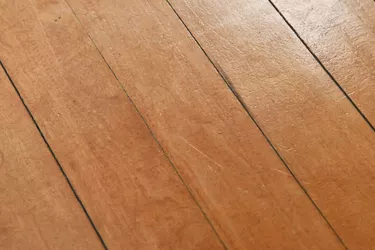 Hardwood floors are attractive, add value to your home and are easier to care for and clean than carpet. Still, they can become scarred, dull or water-damaged over time. You can use some easy and cheap ways to make your hardwood floors look better, starting with cleaning them properly and extending to refinishing them.
Cleaning
Cleaning your floors thoroughly will improve their look with little invested besides your time. Check how your floor is sealed or finished. Newer hardwood floors are surface-sealed with polyurethane, so all you have to do is sweep and mop to give it a bright look. Don't use abrasive cleaners, wax or oil on these floors; simple soap and water is best. Murphy's Oil Soap, a time-tested, gentle wood cleaner, generally costs less than $3 at a grocery store. However, be careful not to let water stand on any wood floor; use a damp mop rather than a wet one.
If your floor is oil-treated or has a penetrating seal, those sealants soak into the floor, and the surface will benefit from waxing. Varnished, shellacked or untreated floors take more care. They shouldn't be mopped regularly; instead, plan to re-wax the floors once or twice a year.
Buffing and Waxing
A floor buffer will give your hardwood floor a new shine, and it costs $20 to $30 a day to rent from tool rental or home improvement stores. Make sure the buffer comes with a sanding screen; the screen will serve to remove only the top finish of the floor, leaving the rest of the surface intact. If your floor needs wax, strip away any old wax with a stripping product like mineral spirits--$5 for a quart--and apply a new coat. Wax costs between $6 and $12, depending on your floor size. After the wax is dry, use a buffer, going with the direction of the wood grain. You also can use a soft cloth to buff the floor by hand if renting a buffer is not an option.
Refinishing
Refinishing might be your only option if cleaning and waxing don't help, although it is the most expensive. A floor sander costs $40 to $60 a day to rent, unless you have a friendly neighbor who owns one and will let you borrow it. Other materials, such as wood finish and stain, cost $30 to $50, depending on the product and the size of your floor. But the labor involved may make it worth the money to hire a professional to refinish your floor. Refinishing hardwood includes sanding down the floor, removing the top layer and resealing it.
Carpet and Paint
If your hardwood flooring is badly damaged, the easiest solution may be is to get some area rugs to cover it. Laying carpet over the floor or painting it also will change the look of the room. Look for carpet remnants from a carpet store and pick basic paint colors to cut on costs. However, if you do lay carpet, don't glue it to the wood flooring; use a carpet pad to protect the floor in case you want to reverse the change. Large area rugs, on the other hand, still show off the wood floors around the edges of the room and are easy to move or take up.
Painting your floor is also a cheap way to cover up damage. If you like, you can paint designs, stenciling a pattern or even painting only part of the floor and incorporating the hardwood into a design.