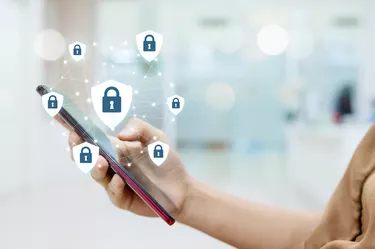 The Amazon Ring App's tagline, "Always Home," says it all. The Ring devices, controlled by the mobile Ring App, are designed to make you feel like you are home – and aware of everything going on there – even when you're away. The Ring App lets you access and control every part of your home security system from one place, making it possible to monitor your home from anywhere.
The Ring App Controls It All
To set up Amazon Ring products in your home, all you need is a Wi-Fi network, a smartphone or tablet and your Ring App. You don't need a subscription monitoring plan to connect the app to your Ring devices.
When the motion sensors of a Ring Video Doorbell or any Ring camera are triggered, the Ring App sends motion alert notifications to your mobile device and lets you view live video feed. You'll need a subscription plan to save video recordings through the app.
In addition to notifications and video viewing, the Ring App controls every part of the Ring security system:
Ring video doorbell camera
Ring Chime or Chime Pro
Ring Alarm or Ring Alarm Pro
Motion sensors
Security cameras (indoor and outdoor)
Ring smart lighting
The Ring App can also control smart home devices by other manufacturers with their "Works with Ring" program.
Devices Compatible With the Ring
The Ring is compatible with a whole list of smart home devices and locks. You can even purchase certified compatible devices right on the Ring website and find all the information you need for installation and setup. Once you set up your compatible devices, they can be controlled remotely from the convenience of the Ring App.
The Ring App's features aren't limited to turning the components of your home security on and off. The Ring App dashboard is the easily accessible HQ for your security system and compatible home automation components.
There are many components of a Simplisafe home security system that keep tabs on your home.
Live Video Feed and Video Recordings
What makes a Ring App user feel like they are "always home" is the ability to check-in from a mobile device to view live video through the Live View. This feature is available to any Ring App user, with or without a Ring Protect subscription.
Those with the Ring Protect Plan can also watch events captured by any Ring camera by using the Timeline feature of the Ring App and filter video recordings by date.
Video recordings can be accessed via the Timeline or the Event History Screen of the Ring App. You can filter what you want to view by day or by activity type on the Event History Screen. If you want to see all of the doorbell activity from last weekend, it's all there for you to check out right from your mobile device.
The Ring Protect Plan is a paid monthly subscription. Basic allows one device to record videos, while Plus allows video recording on all Ring devices at your home. The Pro plan includes video recording, plus 24/7 professional monitoring and dispatch.
The Ring App lets you use your mobile device to talk to the person at your front door, using your mobile device and the Ring Video doorbell. Using Live View, simply press the microphone button and start talking. Through Two Way Talk, you'll be able to see, hear and speak to whoever rings your bell or triggers your Ring doorbell's motion sensor.
The app will allow you to link devices to one another. For instance, if you link your front door Ring video doorbell to your backyard Ring camera, both devices will start a video recording when the motion sensor is triggered on one. You can link Ring smart lighting to turn on or off when another device senses motion.
You may want to give someone else access to your Ring home security system at some point. Examples of shared users may include other people who live in the house, a babysitter or a dog walker.
Shared users can arm and disarm the system, access Live View and video recordings and download recordings. They cannot add or remove components or change settings.
Adding a shared user through the Ring App is as easy as selecting a device you want to share, clicking the "Shared Users" tile and adding the new user's email. You will also have the opportunity to grant them access to additional devices. Shared users must download the Ring App create a Ring account, but they don't have to own any Amazon Ring devices.
If you have a professional monitoring subscription through the Ring Protect Plan, you will also have access to the red SOS icon on the app's dashboard or Live View screen. The SOS button calls for immediate assistance from first responders in an emergency. You can request fire, police or medical dispatch or sound the siren without dispatch.
Don't worry; if someone hits the SOS button by mistake, you will have 5 seconds to hit "cancel." Beyond that, you have one (and only one) opportunity to cancel when the monitoring center phones the primary emergency contact.
The Ring App has a geofence setting feature to set up a virtual perimeter of the actual space in and around your home. The geofenced area recognizes your mobile device when you enter or leave that area and can prompt you to arm or disarm your alarm system or snooze motion detection alerts that your arrival or departure may trigger.
Neighbors is an app built into the Ring App that can be used with the Ring video doorbell, any Ring cameras, smart lights and the Ring Alarm. This safety-focused app allows Ring users to upload videos and post security alerts to the app. Shared video recordings captured on the Ring app can help neighbors stay in touch and keep their community safe from fires and break-ins to lost pets and strange backyard critters.
The Ring's Control Center lets you view and manage every aspect of your Ring account, from updating your profile to controlling which mobile devices and shared users can access your devices.
From the Control Center on the app, you can manage your Neighbors app, privacy preferences and video storage settings.
Other tiles on the Ring App's dashboard let you adjust your motion settings, link Ring devices, edit device names, disable or snooze your doorbell chime and anything else you can think of related to your home security system.
Downloading & Installing the Ring App
Once installed on your Android phone, iPhone, iPad or another tablet, the Ring App will walk you through installation. Whether you use the Google Play Store or Apple App Store, the app is free. You can also start at the Ring website's installation page and download from there.
Rapid Ring App is an optional additional download for iOS or Android that works in conjunction with the Ring App. Rapid Ring allows you to access certain functions faster, such as notifications and Live View. The Ring App on its own is fully functional without Rapid Ring.
Note that Ring's desktop app will be discontinued sometime in 2022. Users will still be able to access their Ring account and other features through a laptop or desktop but will go to ring.com instead of entering through a desktop app.
While no app, device or home automation is flawless, the Ring App and Ring devices have a good thing. When you open the Ring App, you have every Ring device at hand, as well as any compatible devices that work with Ring. Ring does acknowledge several Android apps that may get in the way of Ring notifications. You can find this information and more on the "How to Fix" page of the Ring website.