It seems like everyone loves to make fun of Gwyneth Paltrow's lifestyle site Goop, but if you can look past the exuberant prices, the items for sale are actually really nice. That's why I set out to find the "budget-version" of my favourite Goop items. Finding cheaper version of designer items is a worthwhile skill to have.
When you find an item you love, but it's a couple hundred (or thousand) dollars out of your price range, turn to Google and play around with keyword searches until you find a similar item for less. Stores like J. Crew and Uniqlo are my go to lower-end stores that have designer fashions.
A wide leg trouser
Wide leg trousers have been this season must-haves. Goop features a pair from 3.1 Phillip Lim for a cool $395.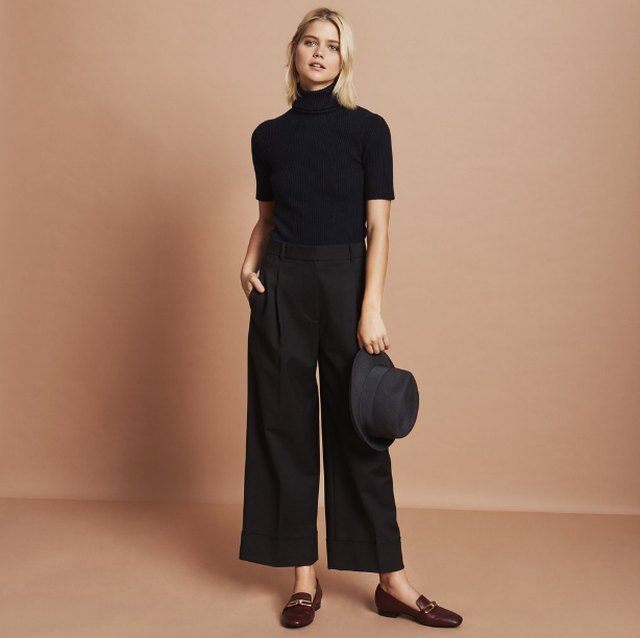 The pair at Uniqlo are on sale right now for $39.90. I swear you can't even tell the difference between the two styles.
A color block blanket
Minimalistic and chic, color block blankets will keep you warm and stylish this winter. The only difference is that Goop's blanket will leave you $1,295 poorer.
While the equally nice blanket from Pottery Barn only costs $63--and you can monogram it.
Trendy "ear-cuffs"
Earrings have definitely upped their game recently, with crafty designs reaching up the side of your ear. "Ear-cuffs" on Goop go for $850.
Whereas, you kind find similar versions on Etsy for around $30, and you'll be supporting an independent business.
Cashmere hat
Cashmere hats look great and keep you warm, but there's no way I would pay $208 for one.
Dare I say the hat from Nordstrom that rings in at $47 is actually cuter (plus, you get more color options).
A fancy blouse
With holiday parties coming up, a nice blouse is a necessity. But the $1,980 Valentino Blouse that Goop sells is about $1,950 out of my price range.
A similar style from H&M goes for about $20 and is perfect for an office party or a night out with friends.