We live in a world where it's actually cheaper to toss a piece of clothing in the garbage than to go through the effort of mending. Why? Imported goods sold at a low price-point follow a quick-turnaround production plan: Borrowing from trends seen on the runways, factory owners and their "design" staff will quickly copy the looks, have them sewn up by woefully underpaid staff working in often dangerous or illegal environments, and then sail them by the shores of the States. From there the items will be distributed to retail outlets, marked up for sale, and snatched up by U.S. consumers. That shirt you buy at Forever21 for $10 may have cost $2 to produce and the person who made it may have been paid 10 cents for their work.
One thing you can do to end the cycle of fast fashion is to buy from retailers with a manufacturing process that is more transparent and located here in the U.S. Of course, this ethos isn't the only thing you should keep in mind when buying clothes, but companies that specifically shine a spotlight on their US-based manufacturing means that they're paying attention to the discourse around the global fast fashion economy, and in a way, opting out.
1. Michael Stars
Do you enjoy the laid back California vibe of brands like Brandy Melville but want more realistic fits and a more mature aesthetic? Michael Stars is designed in California and manufactured in the States, and boosts a wide array of comfy classic west coast styles that look and feel good. Essential tees for men and women run under $75, and you can also pick up cute accessories like wide floppy hats and fall-ready capes.
2. Lulu's
What if you want to indulge your inner trend fiend and are looking for more party-ready wear? Lulu's has a specific filter for USA-made clothing, so you can still look cute at the club for under $50. And you'll be supporting U.S. manufacturing while you boogie.
3. Black Halo
If your shopping taste leans much more toward formal-wear, Black Halo is fabulous. Yes, their offerings are definitely on the higher end, but they're the kind of clothes you buy and then can wear forever. The clothes, especially the jumpsuits and two-piece sets, are in timeless shapes and silhouettes, the kind of outfits that could turn heads for an entire wedding season or for holiday parties for years to come.
4. Modcloth
Your favorite twee retailer has a Made in the USA section, so you can get your Jess Day cosplay on without sacrificing your shopping guidelines. And these aren't like, the bottom of the barrel styles — there are cute tops, dresses, and even decor up for grabs.
5. Imogene + Willie / Raleigh Denim Workshop / Baldwin / Gamine Workwear
Prefer your clothes and accessories with a healthy dose of Americana? These brands take up the mantle of '50s and vintage vibes (and also, denim's more industrial purposes), and between them, you'll find an upscale, long-wearing denim option that works for you.
6. 7 Of All Mankind / True Religion
For more forgiving denim and American-wear prices, 7 For All Mankind and True Religion are tried and true brands that have been a part of the American fashion scene for years now. Seriously, try walking in any American mall, and you'll find someone still sporting the True Religion upside-down omega pockets.
7. Splendid / Ella Moss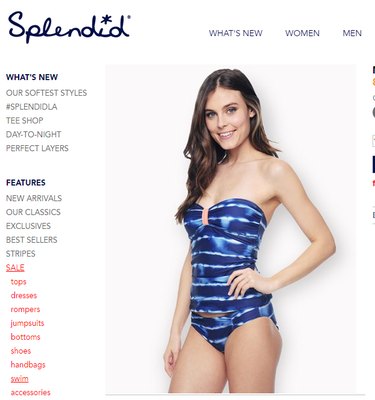 Both of these brands do 90% of their manufacturing in the US, and specialize in the bohemian Insta-girl aesthetic. Less dressy than Lulu's but with more style variety than Michael Stars, these are festival traveler looks at far less than their like styles at retailers like Anthropologie. Search Made in the USA to get the full catalog of their stateside offerings on the site.
8. Hanky Panky
Lest you forgot, underwear and lingerie are also staple clothing items, and Hanky Panky's been manufacturing their lacy looks in the US since 1977. And they're not just offering up your basic tighty whitey styles — vibrant colors and cheeky styles mean you can source all of your undergarment needs in one spot.
9. Taylor Stitch / Freenote Cloth
American-made menswear is represented well with Taylor Stitch and Freenote Cloth. With wide varieties of styles and fabric types at reasonable price points, dudes and folks who favor the simplicity and ease of wear typified in menswear can get their favored fits from Stateside folks.
10. L.L.Bean
One of our favorite all-American buys is L.L.Bean's duck boots, but those aren't the only items the company makes here at home. Most of the other Made in the USA options are for hunting/sport gear, but so are some of their sock options and their classic totes.
11. New Balance
Looking for sneakers? We love New Balance's American-made styles, which let you complement your American-made leisurewear. Speaking of that, what is a good athletic brand that keeps their manufacturing here in the States?
12. Hard Tail Forever
Though HTF's bread and butter is the go-to yoga ensemble of leggings and sports bra, they also stock really cute pullovers and outerwear, and even have an organic line. Talk about doing good, for the purpose of feeling good.
13. Frye
Full disclosure, I own a pair of Frye boots and they are amazing. Also amazing: That many of their ridiculously sturdy leather styles are made in America. Whether you're looking for riding boots or just footwear to hit the city pavement, Frye should be your go-to spot. Sure, they might not be cheap as fast fashion boot alternatives, but once you buy a pair of Fryes, you will never look back.