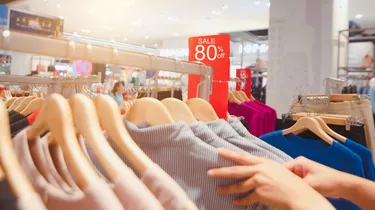 It used to be that outlet stores were where you went to score great deals on items that weren't selling in regular retail stores, but that's changing. More and more name brands are manufacturing certain products specifically for their outlet stores. You might still get brand names at a discount, but you don't have to drive 50 miles to get there anymore.
Outlet stores have historically existed to liquidate excess inventory that consumers aren't grabbing up. Retailers needed space to stock new, cutting-edge products, so the old stuff was cleared out and sent to an outlet store. One way to move these items was to offer deep discounts. But Ramsey Solutions indicates that more than ​85 percent​ of an outlet store's inventory is manufactured specifically for that store these days.
Will You Really Save Money?
You'll almost certainly save a little by shopping at a factory outlet store, and you might even save a lot, as much as almost ​75 percent​. But that's not the case for every product. You'll pay the same as you would at a retail counterpart store – and sometimes even more – depending on the item. The most significant price slashes usually go to outlet products that really aren't selling, even here. You might save just ​3 percent​ on a popular item that was specifically manufactured to be sold there.
It's said that for everything you get, you give up something, and this can be particularly true in outlet stores. Again, consider the source of the item. Was it manufactured for an outlet store, or has it been sitting on a shelf for a year? There's probably a good reason if the latter is the case, so it might well be of lower quality.
The item is probably of higher quality if it was manufactured for the outlet store, but there's a chance that production might not have been up to the usual standards if the manufacturer created the product with the intention of selling it for less than full retail. Cost-cutting measures might have been involved, maybe switching out genuine silk for a less expensive different fabric.
Returning defective merchandise can be a headache as well. You generally have to take it back to the outlet store because local retailers won't accept items that were purchased from one of their outlet locations.
Shopping at Outlet Stores in 2021
Outlet malls and stores used to be tucked way out in far-flung locations – manufacturers don't want to spend too much on their sale premises, either. But they're increasingly establishing brick-and-mortar outlets closer to metropolitan areas. That's not to say that you're going to find one on every corner, however. Even outlet giant Tanger offers only ​39 stores​ or so spread across ​20 states.​ So you should probably include the cost of your time and auto fuel when you're calculating just how much you actually saved by heading out there.
But you may not have to go any further than your phone or your laptop these days. You can find some major manufacturers' outlet sales directly online, from Nordstrom to Saks to J. Crew to Best Buy.
Consider joining a club if outlet shopping is your thing. You can add to your price-tag savings with coupons and special events provided by Tanger Outlets and the Premium Outlets that are offered by the retail property group Simon.
You might also want to do a diligent comparison between the prices at your local retail store and the manufacturers' price points at an outlet. You might find that prices are more or less comparable when you include special sales in the equation, and you're more likely to get the quality products you expect at a retail store.