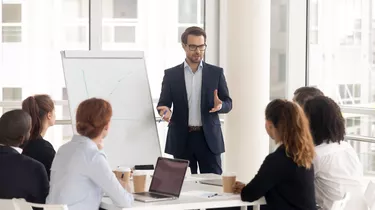 Getting a small business off the ground involves hard work and long hours. Only half of small businesses survive beyond the first five years after launch. To ensure business success and elevate their business planning, many entrepreneurs look to a business coach.
A business coach helps small business owners, startup founders and entrepreneurs achieve business goals and take their business to the next level. Just what does a great business coach do – and is business coaching for you?
What Is Business Coaching?
You can think of business coaching as life coaching for your business. According to the American Counseling Association, life coaches "provide a distinct service that helps clients work on their goals for the future and create a new life path." The right business coach will do just that for the life and roadmap of a business.
By offering an outside perspective backed by years of experience, a good business coach strategizes with a business owner or business leader to foster business growth through regular coaching sessions. You can hire a coach for a short-term or long-term project.
Business Coaching vs. Executive Coaching
If you own and operate your own business, a business coach is what you are looking for. If you are in executive leadership at a company or organization, you'll hire an executive coach.
According to Erickson Coaching International, the main difference between the two types of coaching programs lies in the focus of the coaching sessions. Executive coaches focus on personal development, skill-building and leadership, while business coaches are focused on the business itself, its growth and its bottom line.
Benefits of Hiring a Business Coach
A good business coach is a skilled facilitator and an accountability partner. Much like a personal trainer works closely with a client to evaluate fitness levels and personal goals to develop a detailed workout plan, a business coach partners with you to do the same for your business.
Together, you and your business coach will discuss your goals, competencies and business needs to define clear steps and set a roadmap for reaching measurable results.
You can think of business coaching as life coaching for your business.
Along with professional coaching experience, a good coach will offer constructive criticism and ease coaching clients out of their comfort zone. Part of a coach's job is to help a business owner identify business blind spots, remove roadblocks and develop the self-awareness needed to lead their business to success.
Once the exploratory work is done, perhaps the most significant benefit a business coach brings is the action plan. The best coach will partner with you to build a strategy, outline clear steps and define clear metrics and KPIs for evaluating progress.
Whether the task is complex problem solving, marketing strategy, growth management, audience expansion, time management or the exploration and integration of new technology, a professional relationship with a business coach gives you an accountability partner who shares your business goals.
Unlike an angel investor or business incubator program, business coaches do not want equity or an active role in your company in exchange for fostering company growth. They are paid for their coaching sessions with you.
Finding the Right Business Coach
If you decide to invest in business coaching services, you can find them by asking around in your network, exploring on LinkedIn or checking with your local chamber of commerce or the Small Business Administration (SBA).
Privately hired business coaches may charge anywhere from ​$50 to $300​ per hour, depending on the coach's experience, whether you opt for one-on-one or small group coaching sessions and whether your coach offers packaged pricing.
If private business coaching services are outside of your budget, there are other options for getting help with developing an action plan to expand your business. The SBA offers free resources, training and mentorship for small businesses, and SCORE is a volunteer organization offering free help and connecting business owners with experienced mentors.
While mentoring programs may not offer the same level of customized planning as a dedicated business coach, you can still get great benefits from these small business services.
If you are looking for help getting to the next level with your business, a business coach might just be the person to help propel you forward.