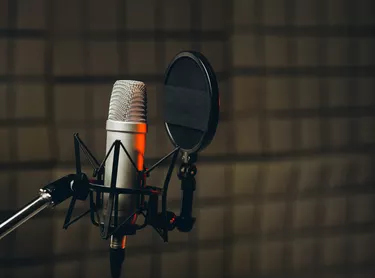 If you've ever listened to a book on tape, you know that the person doing the voiceover shapes your experience. These different voices do much more than read a script; they tell a story. There's much more to being an audiobook narrator than reading a script, though.
The average salary for voiceover artists in the audiobook industry is sort of a misnomer; most audiobook narrators don't earn a standard salary. However, you can learn how the yearly earnings compare to other voice actors as well as other ways narrators are compensated, such as royalty shares. Becoming a full-time audiobook narrator includes learning how to find audiobook narrator jobs and determining whether you have the right skills to succeed in the role.
With the popularity of streaming programs, like Audible, audiobooks have exploded in popularity over the past several years. With that have come new jobs and higher demand for new narrators. However, this job isn't for everyone. It's tedious work, and more than likely, you'll have to set up your own makeshift recording studio.
You'll need a few essential skills to succeed in this field, and one of them is acting, says Audible. Even if you plan to read nonfiction, your voice should reflect what's going on in the narrative, which takes some skill. You'll have to be a strong reader since stumbling over words and improper punctuation and inflection will slow you down. Finally, you need a strong voice and excellent breathing control. You'll have to speak for hours during long recording sessions.
Once you've decided that this line of work is for you, you may need to buy some equipment, and you'll likely have to purchase editing software. You must set up a home studio in an absolutely silent space with a quality microphone.
There are not many education requirements for becoming an audiobook narrator. However, what this role does not require in education it makes up for in terms of requirements experience. Like much contract work, making a name for yourself takes time. You may need to do some pro bono work in the audiobook publishing world when you're just starting out; that way, you can build your resume and portfolio.
In addition, practice makes perfect. Hone your craft by reading aloud to yourself and others. Look into opportunities to practice by reading to patrons at libraries, nursing homes and hospitals, and you should also solicit feedback from your audience.
There are many places to look for voice work, but one of the most important is ACX, also known as Amazon Creative Exchange. This service connects audiobook narrators with authors and publishers who need their services. You can also check sites that connect freelancers with contracts, like Upwork. Over time and with diligence and hard work, you can make a name for yourself as a voice actor specializing in audiobook narration. You may be able to be picky about the type of books you record and command higher rates. Best of all, you'll get to read for a living.
Most audiobook narrators work from home, at least to promote themselves, deal with administrative tasks and sometimes even to do their recordings. In other instances, an audiobook narrator may be asked to go to a studio to record. This is typically arranged by the client.
Job Mobility and Career Growth
Most audiobook narrators don't earn a traditional salary. Most voice acting in this field is done part time on a contract basis (even for people who do this as their full-time job). That means that voice talent gets paid an hourly rate or a flat fee. Often, they receive payment for finished hours of fully edited recording.
Many publishers tell authors to be prepared to pay experienced narrators about ​$200​ per hour for finished hours of audio, explains The Penny Hoarder. Remember that it takes more than an hour to record and edit an hour of audio. However, even if it took you all day, most people can support themselves on that amount.
Another way that audiobook narrators are compensated is with royalty shares. In these instances, you may receive a lower rate or stipend and then ongoing payments based on audiobook sales for the life of the title. This rate will be a more lucrative arrangement if you have a potentially best-selling book.
As more and more reading is done online, the rise of audiobooks and podcasts, which are similar and might also offer paid narration opportunities, have risen. However, since these jobs are freelance and contract positions, it's difficult to identify data that points to clear growth trends for the industry going forward.