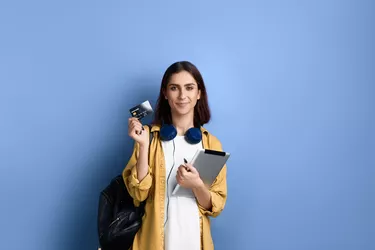 According to Sallie Mae, a 2019 study found that ​57 percent​ of college students had a credit card and that ​38 percent​ used multiple cards. Credit cards can especially appeal to students who prefer their convenience over using cash and the security of having a way to cover emergency purchases. Financial institutions often offer credit card deals that entice students with perks and an opportunity for financial education. However, you must carefully consider the numerous financial risks of taking on such offers.
Student Credit Card Deals
While students could apply for regular or secured credit cards, or become authorized users of parents' cards, creditors often offer special cards to students. Mastercard notes these cards allow access to those with a limited credit history, or none at all, so they're easier for students to get. Two examples include the Capital One SavorOne Student Cash Rewards card and Deserve EDU Mastercard.
The cards may feature no annual fee, offer cash back after meeting a first purchase threshold, provide ongoing rewards points and even include perks, like a free Amazon Prime subscription. Promotional financing offers are also possible.
Unless you have a sufficient income to make your monthly payments and a good control over your finances, college credit card deals can be a bad deal and put you at risk of financial trouble that can affect you long term.
Bank of America emphasizes that student credit cards can help teach you to manage your money and build your credit score. However, you'd need to use the card properly to reap these benefits.
For example, if you charge your month's purchases to the card and pay it in full each month, you can learn to better manage your money and enjoy the convenience that credit cards offer. Making timely payments builds your credit history so that accomplishing future goals, like getting a mortgage for a house or a loan for a car, becomes more accessible. Plus, adding a different form of credit like a card positively contributes to the credit mix part of your credit score, notes myFICO.
Students also benefit from an emergency source of money. For example, a medical emergency or car breakdown could occur when sufficient cash isn't available, and the student credit card could save the day. However, you must be careful in deciding what's an actual emergency and avoid charging nonessential purchases.
Student Credit Card Risks
Unfortunately, student credit cards can cause a lot of short- and long-term financial damage when misused. Chase cautions that you may feel tempted to make frivolous purchases and not fully understand how the monthly card payments fit into your college budget. This can trigger ongoing issues with managing debt, especially if you're already tight on money and have a limited income when studying.
The situation can get really bad with missed payments since these can come with added costs and damage to your credit score. For example, missing your payment could trigger a late fee of ​$26​ or more along with a penalty interest rate that can apply for several months. Plus, if your payment is late by ​30 days​ or more, your creditor usually reports it to the credit bureaus, explains Capital One.
The delinquency then shows up on your credit report and significantly harms your credit score. This means getting any future credit becomes harder and more expensive. While your credit score should go up after you address the issue and make timely payments, it could still eventually affect one of your postcollege goals, such as financing a home. You'd also need to consider the financial headaches of being in debt.
Unless you have a sufficient income to make your monthly payments and a good control over your finances, college credit card deals can be a bad deal and put you at risk of financial trouble that can affect you long term. Ideally, you'd want to not carry a balance so you can avoid interest charges and reduce the risk of going into debt. If you don't meet these criteria, consider using a debit card. It offers convenience with less risk since you'll be spending money you already have.
If you do opt for a student credit card, it's ideal to only use it for emergencies and stay on top of your balance, payment amount and due date. The Federal Reserve suggests tips such as requesting a convenient due date that lines up with your paychecks, avoiding paying just the minimum and keeping track of interest rate changes.