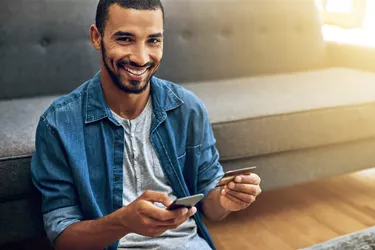 If you've decided to get a new credit card in 2022, you likely have several options depending on your credit history and needs. But before you start applying for any cards, you'll want to do some research to narrow down your choices and assess your eligibility. You'll also want to make sure your potential card offers the right perks for cardholders and helps you meet your personal finance goals. There are several steps you can use to find the best card for you.
1. Consider Your Credit Score
You'll first want to know your FICO score since it can affect the types of credit card options you have along with your credit limit and the interest rate you'll pay. You can get your credit report and score from the credit bureaus and myFICO, or you can use websites like Credit Karma for this information. The score usually ranges from ​300 to 850​ or very poor to excellent.
If you have bad credit with a score ​up to 580​, you may need to consider a secured credit card. This type of card uses a security deposit as collateral and comes with higher fees and fewer perks. Other options could include a student credit card for those without credit or a basic credit card with a cosigner.
On the other hand, a fair credit score in the ​600s​ may open the door to basic credit cards, while having good credit or excellent credit in the ​700s or beyond​ can help you qualify for appealing rewards credit card options with better interest rates.
2. Think About Your Intended Use
Once you know your credit situation, determine your primary purpose for the new card along with your spending habits. This will help you narrow down your choices to a certain card category.
For example, you might just want to build credit and find a basic card with the lowest possible fees. Or maybe you desire a store credit card that gives you perks for a particular retailer or a general rewards credit card that offers cash back for everyday purchases.
When you travel a lot, you might like a card with access to special airline perks. If you're paying high interest on a card balance, you may seek balance transfer credit cards with a special intro APR to save money.
3. Find Cards With Desired Perks
To explore cards fitting your criteria, try visiting the websites of credit card issuers such as Visa®, Mastercard® and American Express®. You can also check with individual banks such as Capital One®, Bank of America and Citibank®.
Many cards offer some type of sign-up bonus such as a statement credit or bonus rewards for new purchases within a few months of account opening. Pay close attention to any terms for such offers and research additional perks such as a rewards rate, warranty and fee credit that credit card companies may advertise.
4. Check the Interest and Fees
Keep in mind that the rates cards charge are variable and can adjust based on market conditions and your credit behavior. In addition, 0 percent APR credit cards only have that low interest rate for a certain time period before the regular APR applies. So, if you plan to carry a balance, it's helpful to aim for an affordable regular interest rate.
Credit cards can also come with an annual fee, though the issuer may waive it the first year. Generally, you'll pay more for a card with top perks. Further, a secured card can have an administrative fee that adds to costs. You'll also want to keep in mind any balance transfer fee if you're using this option and foreign transaction fees if you use your card internationally.
5. Apply for the Best Credit Card
Once you've found the right credit card, you can head to the card issuer's website to learn more about which terms apply and see any promotions for new cardholders. You should see an "apply now" button to begin filling out the application.
Often, you'll know the result upon submission. If approved, you might get the details right away while you wait for the card to be mailed, or you might hear of next steps you need to take. If you get declined, you should receive a letter with the decision.