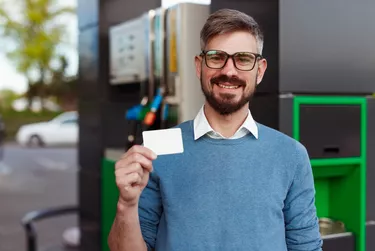 With the right credit card, your gas purchases ​can earn you cash back, cents off each gallon or rewards points​. Gas cards reward customers for loyalty to that particular gas station brand. Depending on the gas card, you may earn points for other purchases in addition to earning points on your gas purchases. Applying for a gas card is similar to applying for other types of credit cards.
Step 1: Choose a Brand
Decide what gas station you'll use the most so that you can earn as many points as possible. Most major brands, including Marathon, BP and Chevron Texaco offer gas cards. Several smaller brands also have gas cards.
Tip
Choose a brand with numerous stations near where you live or work, or where you do the most traveling.
Step 2: Decide on Card Type
​Many gas cards have two versions.​ The first is a general card only valid on gas purchases at that particular station. The second is a co-branded Visa, MasterCard or American Express card that you can use anywhere those cards are accepted. The co-branded card typically offers more options for earning points or cash back. For example, the Shell Drive for Five card offers 5 cents off per gallon, while the Shell Platinum MasterCard provides 5, 10 or 15 cents off a gallon, depending on how much you spend.
Step 3: Get an Application
Visit that gas brand's website to apply for the card. Most gas stations also allow you to apply in-person with a cashier and some allow you to apply over the phone. When you apply, you'll need to provide your:
Personal information including full name, address, phone number and email address

Annual net income

Residency status -- whether you own, rent or have other living arrangements

Proof of identity, including your Social Security number, date of birth and mother's maiden name

You'll also have to agree to the credit card terms and conditions. If you submit your application online, you might receive instant approval or denial. If not, you'll typically receive an acceptance or denial in the mail within a few weeks.
​Even if you have bad credit, you may still qualify for a gas card.​ Typically, gas cards have lower credit limits, so companies are more willing to extend them to people with poor credit. The Credit Card Forum suggests a card like the Marathon regular card or ExxonMobil card for those with poor credit because these cards have no annual fee.
Warning
Gas cards may have a higher than average annual percentage rate than other credit cards and are not a good choice if you will be carrying a balance each month.