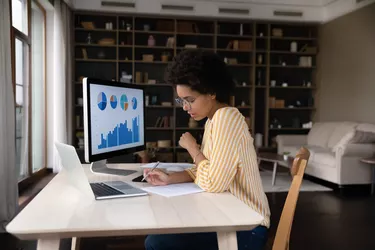 According to the Urban Institute, the cost of attendance continues to rise for college students and this makes effective money management increasingly important. Creating a budget with your college student helps to get a better idea of their income and expenses to reduce the chance of overspending and taking on excess debt. Once the budget is created, you and your student can compare the actual versus projected numbers to pinpoint areas of concern and make modifications when needed.
Why College Students Need Budgets
While a college student budget does serve as a handy monitoring tool, it does much more for one's financial future. Federal Student Aid explains that budgeting helps your student better work toward their short- to long-term financial goals, whether these include putting cash aside for a house or emergency fund or starting a business. That's because students will easily see what money is left over after expenses and be able to allocate it as desired.
Since students can already face high student loan debt levels, having a budget can help avoid worsening the issue by overspending on everyday expenses and possibly using credit cards. In that way, your student can also prevent the credit score damage they can face by running up debt and possibly becoming delinquent on payments.
Creating a College Student Budget
To get started, it helps to locate a college student budget template, as it will already include common income sources and expenses for students to consider. Otherwise, you can create a custom spreadsheet or even use a budgeting app that lets you input income and expenses.
Once you're ready, you'll want to complete these steps with your student:
​List monthly income sources and amounts​: This can include job income, excess financial aid after tuition and fees, allowances from family and any miscellaneous income such as from investments.
​Identify monthly expenses and amounts​: These can be either variable or fixed and cover both essential and non-essential costs. Common categories include your student's housing and utilities, school supplies, food, transportation, clothes, insurance premiums, entertainment, cell phone fees and any credit card/loan payments. If an expense is irregular such as every six months, divide the amount by the number of months to get the prorated amount. Consumer.gov also suggests using an average monthly amount for irregular expenses like utility bills.
​Determine the surplus or deficit​: Subtracting the total monthly expenses from your student's total monthly income will show whether there's extra money or a shortage. Your student might designate extra money toward an emergency fund, future purchase or everyday spending money. If there's a shortage, your student will need to either look for more income opportunities or cut costs.
If you and your student wonder about budget allocation, you might find the 50-30-20 rule helpful. The Consumer Financial Protection Bureau explains this means ​50 percent​ of your student's income would go toward their necessities, ​30 percent​ toward their wants and ​20 percent​ toward paying off debt and saving for the future.
Creating a budget with your college student helps to get a better idea of their income and expenses to reduce the chance of overspending and taking on excess debt.
Using and Modifying the Budget
Your student should look at the budget each month, keep the numbers in mind as they spend money and keep track of actual inflows and outflows. Using a budgeting app can help with expense tracking since your student can transfer data from a bank account automatically or quickly enter it manually. Over the month, your student should especially pay attention to how small expenses can quickly add up and then cut back before exceeding the budgeted amount.
At the month's end, your student should review whether they went over the budget. If so, they should identify specific areas of overspending. They can then either cut costs – such as eating out less often or buying used textbooks – or boost income by looking for jobs.
Even if your student adhered to the budget, they may still need to modify the budget due to any income or expense changes (such as rent increases) as well as factors such as inflation, mentions the American Institute of CPAs. If your student has a certain financial goal, they can also make adjustments to allocate more money to savings and adjust other expenses accordingly.