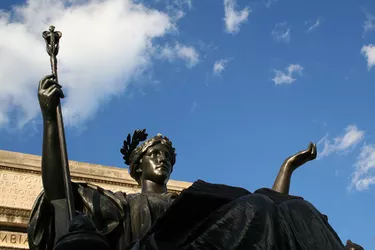 Financial Aid is a necessity for many students who plan to attend a college or university. In fact, the National Center for Education Statistics found that 66 percent of all undergraduate students received some type of financial aid during the 2007-2008 academic year. These students apply for financial aid each year they are in school to offset the costs of higher education.
Types
There are three basic types of financial aid available to students. Grants and scholarships are essentially "gift aid," as neither requires repayment by the student or the family. Student loans, on the other hand, require repayment. Federal Stafford Loans, awarded to 34 percent of students during the 2007-2008 academic year, have a low interest rate and have a deferment option that allows students to postpone payments until after graduation.
Coverage
Because most types of financial aid are need-based, students must estimate their expenses to determine the yearly cost of attending school. When determining need, students should not only include the tuition cost, but also the associated fees, room and board, books, school supplies, transportation, health insurance and incidental expenses. Incidentals can include any other monetary needs the student anticipates during the year, from unanticipated emergencies to clothing.
Eligibility
Schools use a specific formula to determine which students are eligible for financial aid. Considered are the student's individual savings and the finances of his family. Because schools expect the families of unmarried students to contribute to their education, they must disclose all of their financial information. This includes data on their investment portfolio, bank account balances, yearly income and real estate ownership. The schools use this information to calculate the estimated family contribution. The school deducts this number from the total cost of attending school to determine how much aid money the student needs for educational expenses.
Disbursement
Most grants, scholarships and loan funds go directly to the student's school. After covering the yearly cost of tuition, the bursar's office will refund the difference to the student by depositing the money into a bank account or mailing a check. The student can use these funds to cover other costs associated with her education, including books, housing, food and transportation. Students also have the option of holding the money in their accounts for use toward future tuition payments.