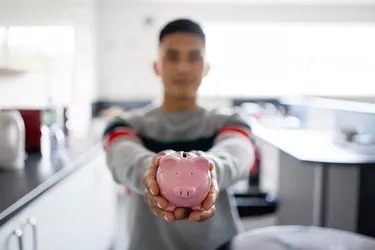 From providing a safe place to store cash to allowing for convenient debit card transactions, bank accounts have a lot to offer college students who are building their money management skills. While opting for a regular bank account is an option, many financial institutions offer special bank accounts that are marketed to college students. These accounts come with some appealing features, but you'll need to understand how they work, what they offer and how to choose the right one.
What's a College Bank Account?
This usually refers to a checking account designed for college students ages ‌17 to 24‌. Unlike many regular account options, these accounts usually don't require a monthly maintenance fee or have minimum balance requirements while you're a student. In addition, the minimum opening deposit is low or nothing to make the account accessible. These accounts usually also don't require a parent co-owner unless you're ‌under 18‌.
Unlike many regular account options, these accounts usually don't require a monthly maintenance fee or have minimum balance requirements while you're a student.
Specific banks and credit unions offer additional features to students. For example, U.S. Bank provides special overdraft protection benefits, discounts on checks and special campus banking features. As another option, Fifth Third Bank offers a way to get advanced access to paychecks alongside some leniency for overdrafts.
You can usually use these accounts to pay by check, bank transfer or debit card, although Bank of America restricts paper check writing for student accounts. Unless you choose an online-only bank, you can also make in-person regular withdrawals and deposits. You should be able to use online banking features such as mobile check deposits and conveniently set up periodic transfers or direct deposits to help fund your account.
What Are the Limitations?
While saving money on fees and getting perks like overdraft fee leniency makes these accounts appealing, only qualified individuals can benefit from college bank accounts. Therefore, college students who are outside the typical ‌17-24‌ age range or who lack qualifying documentation like a current student ID can end up at a disadvantage.
You'll also likely have to transition to a non-student account or lose the fee waiver once you no longer meet the criteria. For example, Chase lets you get benefits for up to ‌five years‌ while you qualify, but then you'll need to either keep ‌$5,000‌ in the account daily on average or receive qualifying electronic deposits to avoid the ‌$6‌ monthly fee. Wells Fargo would charge ‌$10‌ monthly unless your minimum daily balance or monthly direct deposits total ‌$500‌.
In addition, you'll want to consider that these are just basic checking accounts. So if you want more features, such as receiving interest or getting perks like free wire transfers or ATM fee reimbursements, you might need to go with a paid account option.
Choosing the Right College Bank Account
You'll want to research financial institutions with college bank accounts and compare the account features as well as consider the convenience. First, make sure you get the best deal with fee waivers. Plus, seek an option with local branches – maybe even on your campus – and a large ATM network for easy funds access. You'll also want to consider whether the institution offers desired perks like a mobile banking app that lets you remotely deposit checks and send transfers.
Before proceeding to sign up, look over the terms and conditions closely. For example, you'll want to clarify any monthly fees and waiver options once you're no longer a student. You might also want to check reviews of the bank and its customer service. In addition, the Federal Deposit Insurance Corporation says to make sure the institution is federally insured to protect your funds.
Signing Up for College Bank Accounts
To sign up for a college student bank account, you can check the bank's website for a link to open the account online, or you can visit a branch to get in-person guidance. You'll need to provide common personal details along with your Social Security number and identification such as a driver's license or passport. Chase says you'll also likely need proof of your address plus your student ID or some other document showing you're enrolled in college.
After submitting your application and arranging for any initial deposit, you should soon have access to your account. You may receive your debit card and any checks in the mail, and you should receive a PIN letter too. You'll also be able to enroll in online banking for easier account management.