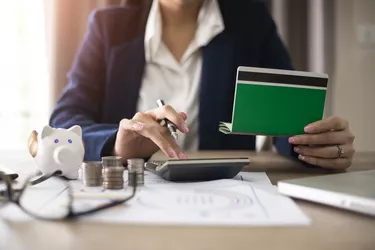 If you live in Arizona, Colorado, Illinois, Michigan, Minnesota, South Dakota or Wisconsin, TCF Bank is one of the local banking options available to you. With free checking and competitive rates on money market accounts and CDs, the bank is a popular solution to those living nearby. You can open a TCF account by visiting a local branch or filling out an application online, with help available by phone as needed.
Open a TCF Checking Account
For those who have a branch located conveniently nearby, opening an account in person is a good option. At a growing number of branches, they can even print a chip-enabled debit card for you on the spot. No waiting for one to arrive in the mail.
However, it's tough to match the convenience of being able to use the TCF Bank open account site to apply for an account. You'll save time by first going to tcfbank.com on your mobile device and snapping a photo of your driver's license or other state-issued ID. However, you can skip that process and go straight to the form, but TCF Bank will have to verify your identity before you'll be approved.
TCF Checking Account Requirements
To open a TCF checking account, you'll need to make a $25 deposit. After that, though, there's no minimum monthly balance required, and you'll pay no monthly fee. However, there are a few miscellaneous fees, primarily applying to those who want paper statements.
When you apply for an account, TCF Bank will run a verification on you and base acceptance on the results they get. The bank will pay particular attention to your history with financial institutions. If, for instance, a bank closed your account for cause, it will likely raise a red flag.
Banks use a specialized database to verify applicants before approval. When you ask TCF Bank to open an account, they'll likely use one of these verification services, which allow banks to voluntarily offer information on previous customers. If you're concerned about what this report will say about you, you can request a free copy once a year under the Fair Credit Reporting Act.
TCF Free Student Checking
College-age students can set up a free TCF checking account to get started building credit. If you're on campus at the University of Minnesota Twin Cities or the University of Minnesota Duluth, TCF has dedicated banking solutions for those students. The bank also offers free educational resources to students interested in developing good financial habits.
To open a student TCF account, you'll need to be between the ages of 18 and 24. You'll also be asked to make a $25 initial deposit and provide your state-issued ID. As with its standard checking account, TCF Bank will run a verification check on you to ensure you don't have any past issues.
Open a TCF Savings Account
In addition to checking, you can also open a TCF account for savings. There are various types of savings accounts available: Free Savings, Power Savings, Performance Savings and the TCF Power Money Market. Interest rates vary from one account type to another.
As with a checking account, you can get TCF Bank to open a savings account for you either online or at a local branch. Requirements depend on the type of account you open:
For the free account, available to all TCF checking account holders, you'll only need a $25 opening deposit.
You can open a Power Savings account with only a $25 balance, but you'll have to keep a $100 minimum daily balance to avoid paying a $4 monthly maintenance fee.
The TCF Performance account requires a $1,000 minimum balance to avoid a $10 monthly maintenance fee.
The TCF Power Money Market can bring in higher interest rates than standard savings accounts, but you'll have to keep a $1,500 minimum balance or pay a $10 monthly maintenance fee.