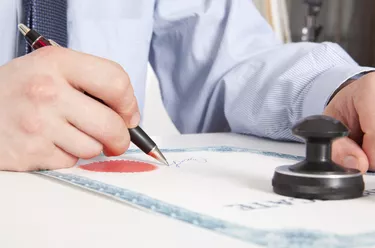 A signature guarantee medallion stamp verifies that a signature on a document is legitimate. The guarantee this seal provides holds a financial institution responsible in the case of fraud. Because of this, banks are hesitant to provide signature guarantee services for non-customers. Some banks train employees better than others to limit transactions to customers only; and if you're pleasant, cooperative, and bring sufficient documentation to a bank employee, they may complete the transaction for you. But don't count on it. Chances are you'll need to open an account.
Step 1
Research banks in your area with low minimums to open an account. Use Internet resources like Bankrate.com to compare account features. Focus on minimum balance requirements, interest rates, and proximity to your home. Some bank accounts may be opened with $1 or less.
Step 2
Verify that the bank offers signature guarantee services to customers by visiting the website or calling the customer service number. Ask about fees. Banks and credit unions may charge a nominal fee for providing signature guarantee services.
Step 3
Inquire about accounts for persons with bad credit if you have a poor credit history. Some banks won't allow you to open an account if you've been reported repeatedly to ChexSystems, TeleCheck, or EWS for insufficient funds. By asking first, you'll avoid having an inquiry added to your profile on these credit systems; it may become a warning flag if you apply too often.
Step 4
Visit credit unions if you are denied an account at a bank. Credit unions often offer members more flexibility because they're designed to service a subset of people with a common background, such as workers all in a certain city, persons who attend a certain university, or members of the armed forces. As nonprofit institutions, there is less at stake for them when choosing customers.
Step 5
Bring identification to the bank or credit union when requesting your signature guarantee. Guarantors will commonly need such photo identification as a driver's license, military ID or passport, as well as proof of legal ownership on an official document reflecting the owners' name and account number. If your name has changed, you'll need additional documents, such as a marriage license, divorce decree or death certificate.