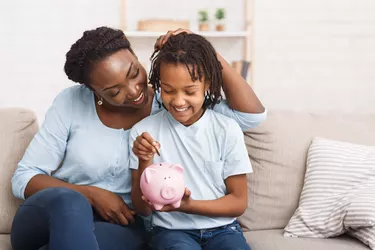 The minimum age to open a checking account will depend on the bank's policies, but you'll generally need to be an adult who is 18 or older to get your own account. If you want to get a checking account for your child, your bank may allow you to do so if you agree to be the account's co-owner and your child is a teenager. In that case, the minor might need a special type of checking account that converts to a standard account upon adulthood. Besides meeting age requirements, opening a checking account requires providing any required initial deposit and presenting acceptable identification.
Minimum Age to Open Checking Account
Like with applying for a credit card or loan, you usually need to be at least 18 years old to get a checking account that only you monitor and access. However, individual bank policies determine the minimum age for a minor's checking account that a parent, guardian or other type of adult co-signer will co-own. Banks often set the minimum age at 13 or 14 years old for such accounts and will allow the minor to convert the account to one in their own name once they turn 18. Some banks, like Huntington, allow any student to get a shared account with an adult co-owner regardless of age.
How Minor Checking Accounts Work
Checking accounts for minors often include special teen checking accounts with low minimum opening deposit amounts and minimal service fees. Banks may also allow minors and guardians to choose from any of their checking account options. In either case, the application process requires providing information for the minor and joint account holder. While an online application is often available, some banks might require visiting a branch when a minor will be on the account.
During the application process, the minor and co-owner will need to present valid identification. This usually means a driver's license along with a Social Security number for an adult, and the minor can often present a birth certificate or passport along with their Social Security number. If the account has a minimum deposit, that will need to be handled to initially fund the account. The minor and adult account owners will also need to sign an application and any other documents.
Once the account is set up, the guardian will be able to access the account along with the minor to make it easy to monitor the balance and transactions. Banks might require the adult's approval for services like money transfers and requests for a debit card or checks. When the minor reaches 18, the bank will often convert the account to the former child's sole name. This might involve an upgrade from a teen to standard checking account.
Choosing a Checking Account
Whether you're seeking a checking account for an adult or a minor, the best way to find an appropriate checking account is to check with a local bank to learn about their account options and requirements. Since the minimum age to open a checking account can vary, it's worth checking with multiple banks to get their policies. A good place to start is to ask about teen checking accounts since these can come with features that help with teaching money management and are geared toward a younger audience.
Also do some research on any fees and minimum balances or deposits required for the account. An adult might not have a problem keeping a $1,000 minimum balance and making a $100 initial deposit. On the other hand, a checking account without fees or a minimum deposit can make more sense for a minor.
Considering a Child Savings Account
If the minimum age to open a checking account is too high for your child, consider getting them a child savings account instead. This alternative works best when you want to teach your child how to save toward a goal rather than allow them to use the account for regular transactions. While an adult co-owner is still needed, banks may set a lower minimum age or no age requirement at all. Synchrony Bank notes that the adult will likely control this account until they reach adulthood.