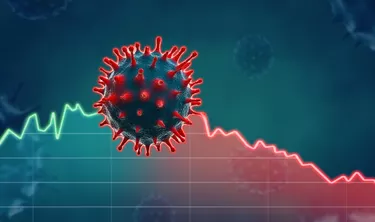 The effect of long COVID both on the economy and public health can be difficult to pin down because this aspect of the coronavirus pandemic is still evolving and ongoing.
The U.S. Government Accountability Office reported on a study by the Centers for Disease Control and Prevention in March 2022 that indicated that ​one-third​ of COVID survivors still struggled with ongoing health concerns ​six months​ after COVID-19 infection. The Brookings Institution put the number at about ​16 million​ working-age Americans just a few months later.
A patient dealing with long COVID is still suffering effects of the illness at least ​four weeks​ after contracting the disease. The The Brookings Institution reports that long COVID symptoms can last ​several months to a year or more​ post-COVID. There was no tried-and-true treatment or cure available as of ​August 2022​.
Long COVID patients experience either new or recurring symptoms, or their first symptoms never go away. The symptoms of long COVID are numerous and varying, including fatigue, shortness of breath, heart palpitations, brain fog and cognitive impairment, mood changes, difficulty sleeping, muscle pain, joint pain and mental health issues, like anxiety and depression.
A lot of questions remain unanswered, such as whether vaccines have any effect on long COVID and whether being repeatedly infected increases the risk of long COVID. Research into treatment is ongoing.
Effect on the Labor Force
Long COVID's effect on the American labor market has been understandably significant. The condition is estimated to have put a million people out of work, according to the Select Subcommittee on the Coronavirus Crisis. The Brookings Institution reports that the number could be as many as ​four million​ Americans.
An additional ​45 percent​ of employees have been forced to reduce their work hours to accommodate the symptoms. Long COVID is blamed for ​15 percent​ of the nation's labor shortage as of ​August 2022​.
Economic Impact of Long COVID
A labor shortage understandably trickles down to adversely affect the U.S. economy. Many of those who are unable to work have lost the health insurance coverage they were receiving from their employers. An additional economic burden is created by the fact that more than one in four workers in the private sector have no paid sick leave, as reported by the Brookings Institute. But the disease will no doubt spread – or at least not be eliminated – if sick people go to work and infect others.
Lost wages can prevent Americans from replacing those insurance policies, not to mention their ability to spend money on other essentials. The U.S. Census Bureau's Household Pulse Survey reports that lost wages have cost America between ​$170​ and ​$230 billion​ a year.
Long COVID's effect on the American labor market has been understandably significant.
Potential Changes to SSDI
A national crisis of this magnitude understandably has Americans looking to federal policy makers for answers and help, and the government is taking steps to respond.
The U.S. Department of Justice and the U.S. Department of Health and Human Services have each taken the position that long COVID should be recognized as a disability under the terms of the Americans with Disabilities Act. This would allow at least some sufferers to qualify for Social Security Disability Insurance (SSDI), infusing much-needed income into some households. One of the challenges inherent in SSDI coverage is that the existing rules require that a condition be expected to last at least ​12 months​. Not enough is yet known about long COVID to state unequivocally that this is the case.
The White House indicated in ​April 2022​ that the Biden administration "recognizes that the COVID-19 pandemic has resulted in new members of the disability community and has had a tremendous impact on people with disabilities." It supports ongoing efforts by the Departments of Justice and Health and Human Services. The Department of Labor has also stated that long COVID should qualify as a disability under the terms of the Americans with Disabilities Act to obligate employers to make workplace accommodations for those suffering from ongoing virus symptoms.
The Biden administration has additionally taken steps to create and expand on national long COVID clinics and to provide more virus-related education and support to health care workers.