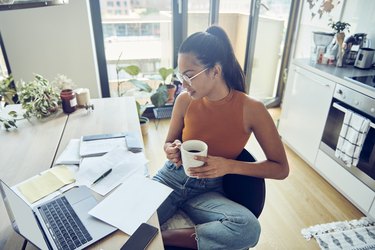 Just about four weeks before Tax Day 2021, the IRS dropped some welcome news for stressed-out taxpayers: Rather than sticking with the normal deadline of April 15, the federal government is giving itself a little more time to process Americans' tax returns. This is the second year in a row that delays thanks to COVID-19 have snarled up the timeline for federal returns.
If you've been putting off firing up your accounting software, take a beat and breathe a sigh of relief. The new federal deadline will be May 17, according to ​Bloomberg​. It's important to note that this does not affect state returns, and that if you're a small business owner or freelancer, you'll still owe estimated quarterly taxes on or by April 15. For everything else, you have a little more time to organize your finances in a way that best serves your tax needs.
Those who've been paying close attention to the IRS and the federal government overall may not be surprised by this move. After all, filing season started late this year, in part because the IRS is still processing returns from last year. It's also currently disbursing the American Rescue Plan Act's $1,400 checks to hundreds of millions of Americans, another massive undertaking with a very tight turnaround.
Of course, if we've learned one thing during this pandemic, it's that time has no meaning — so if you're tempted to put off filing your taxes (and potentially getting a refund!) until the last minute, there's no time like the present to get it out of the way.