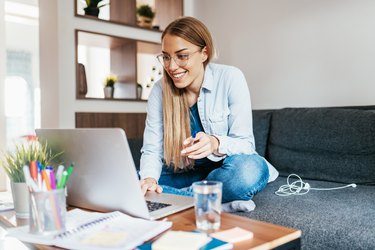 In March, just as the COVID-19 pandemic exploded across the United States, the federal government passed the CARES Act, a sweeping piece of legislation intended to provide financial relief and policy guidelines as everyone's life literally ground to a halt. The CARES Act threw Americans a lifeline, encompassing everything from unemployment insurance to loan deferrals. Money has proved to be an enormous asset in stopping COVID-19. Now a federal watchdog has found that you may be owed more of it.
According to the Government Accountability Office, multiple states have been underpaying pandemic unemployment assistance for months now. This particular error affects freelancers and gig workers, who don't qualify for normal unemployment benefits. It may have come down to an accounting error; initial payments were calculated along a baseline until agencies knew more, and then were simply never adjusted with new data about claimants, who should be paid according to their usual prior earnings.
Getting unemployment during and because of COVID has been overwhelming and frustrating all around, and unfortunately, many states' PUA programs will end by December 26, if they haven't already. That said, there's still time to contact your state unemployment office about payments you could be owed. Searching your state and the keyword "unemployment" should get you to the proper website for further questions. Make sure you have all your important documents and (importantly) documentation about what you've already been paid and what you think you're owed. Talk to your local benefits office about next steps, and be persistent — it's a difficult system to navigate, but it should be worth it in the end.