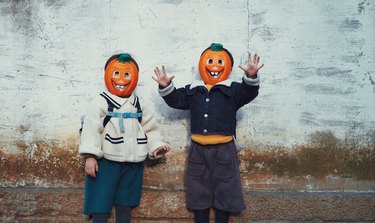 Over the summer, the most fitting slogan for these weird times came from some amusement park executives in Japan. In an odd and viral video, in which two men in suits ride a rollercoaster with their mouths clamped shut, visitors were urged to please "scream inside your heart" to avoid transmitting COVID-19. The pandemic is still roaring and Halloween is coming, but that advice holds true for the year's spookiest season.
The Centers for Disease Control and Prevention has released guidelines for kids of all ages about how to safely celebrate All Hallows Eve. Anyone looking for some clever workarounds that allow for big gatherings will be disappointed. Yes, many of us will be wearing masks, but unless you're also layering up with tested and approved face masks, you can't count on reliable protection from the coronavirus. The CDC guidance leans heavily on sticking closely within your household, expressing your love of the holiday through decorations and virtual events.
Some trick-or-treating might be okay, but only that which minimizes contact, e.g., leaving a bowl of candy at the end of a driveway, rather than handing it out yourself. Other outdoor activities, like going to haunted houses or corn mazes, need to meet certain conditions and maintain social distancing. Even apple- and pumpkin-picking ought to come with plenty of hand sanitizer and guest limits.
If you travel to rural areas to partake in any of these activities, the CDCs asks that this year, you stay home. It's disappointing, sure, but with COVID-19 flaring up again, including in advance of flu season, it's far better to hunker down and enjoy what you can until next year.