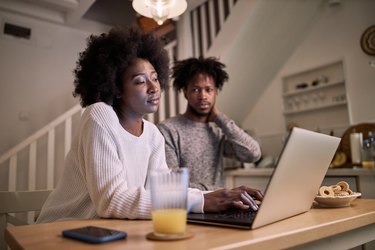 COVID-19 is running all of us ragged. We're still trapped indoors, avoiding most of our friends and family, improvising the work that gets us paid, and trying to cope with people who won't wear masks. The stress of the coronavirus pandemic is getting to everybody — but the evidence shows it's weighing on one half of the population far more than the other.
Researchers at Australia's Flinders University have just released a study confirming what woman around the world have likely been feeling: "Women have had to endure additional burdens associated with both paid and unpaid work, often without consideration or the alleviation of other life responsibilities," said coauthor Ros Wong. The research and consulting firm McKinsey has come to similar conclusions, stating that per their analysis, "women's jobs are 1.8 times more vulnerable to this crisis than men's jobs." The United Nations has also found that COVID is exacerbating gender-based inequality, calling it a "shadow pandemic."
We already know that work-life boundaries are eroding fast under self-quarantine, in addition to the simple stress of staying home all the time. The loss of control in all but the most constrained of situations is grinding us all down; throw in household and child-rearing work, which largely falls on women in male-female partnerships, and it's no wonder women may feel like they're hanging on by a thread. Give yourself permission to let some things be imperfect — and to redistribute responsibilities with honest conversations, if you can. We all have to come out the other side of this, and the more we support each other in the meantime, the better.