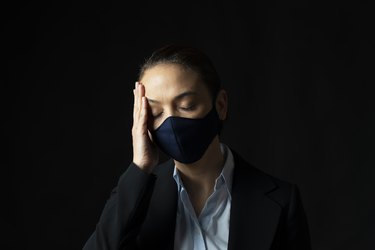 The fourth month of the coronavirus pandemic in the United States is looming, and while we're all adjusting to the new normal, we're far from happy about it. Throw in nationwide political conversations and a widespread economic catastrophe and you have to wonder how anyone copes. According to a new survey from the American Psychological Association, the answer is, unfortunately, not all that well.
More than 8 in 10 Americans say that the future of the nation is a significant source of stress in their lives, a 14-point jump from the previous high of 69 percent two years ago. More Americans, including 55 percent of Black Americans, cite racial discrimination as a factor in their mental health; about two-thirds overall say the government's response to the pandemic keeps them up at night. And while nearly three-quarters of us feel like we can protect ourselves from COVID-19 once the nation begins opening up more, 63 percent of survey respondents are still stressed out by the very idea.
A majority, about two-thirds, say they'd still like more information about what to do as communities reopen. The simplest thing, according to experts, is to keep wearing masks and washing your hands: If 80 percent of us wore masks and adhered to social distancing guidelines, scientists say cases of COVID infection would plummet. If you're still wrestling with pandemic stress, there are some free apps out there that have proven helpful in research settings. Stress is a natural reaction to such chaotic times, but luckily for all of us, so is resilience.