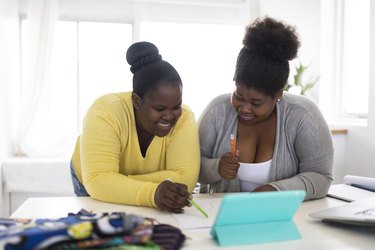 The United States is always in need of an honest conversation about race, discrimination, and economic disparities. Look at any set of demographic statistics and they'll show that minority communities simply aren't getting an equal or even fair share of the pie. Activists and nonprofits throw their energy into different kinds of work, but often what stakeholders say helps most is simple: money.
That's one of the reasons behind a new movement founded by fashion designer Aurora James; she's calling it the 15 Percent Pledge, and while it's directed at larger corporate buyers and major retailers, there's something to it for individual consumers as well. The goal is simple — fair representation of Black businesses on store shelves. Since Black Americans make up about 15 percent of the population, James suggests stores devote 15 percent of their buying power to Black-owned products.
It's a simple idea, but it could be powerful. Minority-owned businesses have been acutely suffering during the COVID-19 pandemic and shutdown. A store that closes during the outbreak has a 1 in 3 chance of shuttering permanently. Even if you can't shop in person, it's easier than ever to buy online, especially if you're open to reducing your reliance on Amazon.
This doesn't only mean consumer goods — look through a directory like the Official Black Wall Street website and app to find Black-owned service providers near you. You can also browse hashtags like #blackowned on social media. Fifteen percent is a pretty small shift in spending, but give it some room and it's one that could multiply far beyond its original scope.