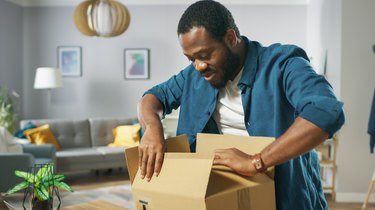 The Everything Store, as Amazon likes to call itself, is famous for its "customer service obsession" — they'll go to any lengths to ensure that your package reaches you as quickly as possible, especially if you're paying extra for it. Sometimes those efforts backfire, and sometimes they simply blow up in your face. If you've found yourself annoyed that Amazon seems to be shipping on a delay this holiday season, you're not alone.
This week, Amazon thanked its Prime subscribers for their business in a Facebook post, to which angry customers flocked with scathing accounts of shipping failures. Items expected within a day or two are, anecdotally, coming in up to a week after the order was placed. Fast, free shipping is central to Prime as a product, and members expect what they're paying for, especially now.
For its part, Amazon does have some explanations for these logistics snafus: To start with, the company took pains to remind customers that one- or two-day shipping begins from the time an order is processed by a warehouse, not from when it's placed online. Amazon also noted severe winter weather throughout the country, particularly in the Midwest, has caused delays. Whether overwhelmed warehouse employees or managerial mistakes are contributing, the company wouldn't say.
As holiday shopping — and buying things in general — moves more and more into the virtual world, problems like this may remind more people why we like brick-and-mortar stores so much. While there's a lot to be said for online ordering and delivery, carrying something home yourself will probably take a lot less time overall.