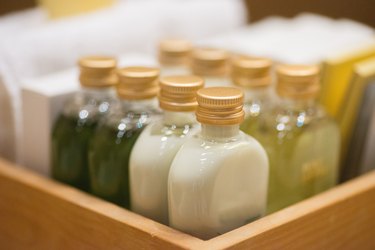 There's no logical reason to love things that come in miniature, but we do. Toy trains, tiny houses, and Lil Sebastian have charmed us since forever. It's not all fun and aesthetics, though: Some of our favorite small pleasures are on their way out.
If you've been traveling and staying in hotels lately, you may have noticed that tiny toiletries have become an endangered species. Those travel-sized shampoos, body lotions, conditioners, and mouthwashes are often strangely enticing and sometimes slightly fancier than anything you'd buy for yourself. Unfortunately, they're also one frequently tossed source of plastic trash and pollution, and some of the world's biggest hotel chains are scaling up instead.
InterContinental Hotels Group, which owns Holiday Inn and other chains, has just announced that tiny toiletries will be out of circulation in all its rooms by 2021. Instead, your room will feature ceramic dispenser filled with bulk products, something that's already available at hospitality chains like Marriott International. Presumably, they're a little more difficult to toss into your carryout as you're checking out.
This trend of leaning on reusable packaging is also making headway in the consumer market. Earlier this year, the Loop initiative debuted partnerships for sustainable containers with brands like Procter & Gamble, Unilever, PepsiCo, and Nestle, which make tons of household goods and foods. We've also gotten used to the idea of reusable miniature toiletry containers thanks to airport security regulations. It may be disappointing to no longer have your own rosemary-scented lotion to take home, but it sure beats dumping hundreds of millions of barely used bottles every year.