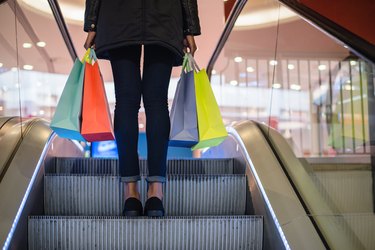 There is just something about mobile phones that throw all our best intentions out the window. Shopping on your cell can draw you into impulse shopping, even more so than on a desktop computer. Weirdly, researchers have now found that phones change how we shop in person too.
Fairfield University marketing professors have just released a study tracking whether holding a cellphone while you're shopping at a store can change how much you ultimately spend. The results are great for businesses and less great for your budget: Even if you're using a phone to multitask while shopping, "such as making phone calls, sending text messages, checking emails, or listening to music," you're more likely to both make unplanned purchases and forget to buy items that you'd put on a list.
Even more interestingly, the researchers found that there was no particular minimum threshold for phone use and this behavior. Just checking your phone briefly has a similar effect to staying glued to your screen, which suggests that whatever is disrupting us keeps doing so long after we put our phones away.
Human beings don't multitask well, and it takes us a long time to recover from interruptions — studies in the workplace put the average time around 23 minutes. More and more, however, research is showing that we enjoy ourselves more when we put our phones away altogether. Social media alone will probably consume up to five and a half years over the course of your lifetime. Unplugging, even at the mall, can help you conserve both funds and future good times.