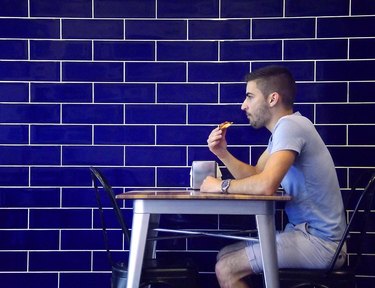 Shopping and spending have become self-serve in almost unprecedented ways. Thanks to swipe technologies that plug into a phone and the new ubiquity of tablets, we can pay for things with more ease than ever. Or, well, almost.
When it comes time for customers to tip, many of these tap-and-go interfaces simply offer a pre-filled array of options. You may have noticed, however, that these often go much higher than you were expecting. Rather than 15 percent, 18 percent, and 20 percent, these tipping options might start at 25 percent — and your server is probably standing right there watching you sweat it out.
Don't panic. Author and columnist Liz Weston, writing for NerdWallet, wants you to know that you're not actually trapped. Obviously if you feel you've experienced superior service, you should feel great about tipping big. Your server, especially if you're at a restaurant, relies heavily on tips to fill out their wages. But you're also perfectly within your rights to offer the more traditional amounts above. "Home delivery merits a 10 [percent] to 15 [percent] tip," she writes, "with pizza delivery meriting a $2 to $5 tip. In most other situations, tip screens can be viewed just like tip jars — entirely optional."
That's not according to Weston, but to Lizzie Post, co-president of the Emily Post Institute and co-host of the podcast Awesome Etiquette. Twenty percent of the pre-tax price is widely accepted and easier math, if you're ever in a crunch. But if you're really worried about coming off badly, just be nice and appreciative to your server. No matter what, they definitely deserve that.