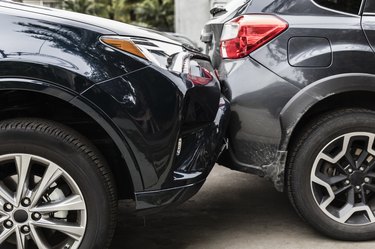 If you don't cancel your car insurance correctly, you might have problems making a claim after an accident or after theft, damage or another incident occurs, even if you have a new policy. It's also important to close financial accounts correctly to avoid fees, penalties or damage to your credit. You can close any USAA account at a USAA branch, over the phone, in writing or using your computer or a digital app, and the process is very straightforward.
While you can close your account over the phone by talking to a USAA customer service rep, you might want to close your account online in case you don't have all of the necessary information you need and want more time to collect it. You should check your USAA bank accounts to see if all of your checks and withdrawals have completed and ensure that you have no pending transactions.
Visit usaa.com to access your account. Click on the My Accounts tab and check your USAA checking account or savings account balance, transactions and any other information you want to verify. Download your latest statement if you are not receiving paper statements. You might want to download all of your statements or at least enough to help you prepare your next tax return.
Look for the Help option on the top menu bar and then choose "Close Savings Account" or "Close Checking Account." You will then be able to do a live chat with a customer service representative, or you'll be given a phone number to call. You can also start the process here. You will find instructions for closing an account over the phone or online.
You will need your account number and other information related to the account, such as your Taxpayer Identification Number (TIN), street address, PIN or security question. This helps reduce the risk of someone else closing your account without your permission. A TIN is usually your Social Security Number or Employer Identification Number.
You can also close money market accounts, government securities accounts and certificate of deposit accounts (based on their terms), explains How To's Guru.
If you haven't downloaded the USAA app, you can do so at the Apple Store or using Google Play. Follow the directions to register and set up your account. Follow the directions to close your account using the app, which is similar to closing your account online.
The phone number to call for help is ​800-531-USAA (8722)​. This might be the quickest way to close your account if you have all of your account information available. If not, you can call, find out what you'll need and then call back.
You can close your account in person by visiting a USAA branch and bringing in the proper ID, such as a drivers' license or passport. You can find the nearest branch using a Google search, at the USAA website or using the USAA mobile app (scroll down to find the Find a Financial Center link). Before you get in a long line to talk to a bank teller, look for a greeter or other employee and ask to whom you should speak in order to close your account. You might be taken directly to the office of a customer service associate.
If for some reason you don't want to or can't close your account using your phone or computer or by visiting a branch, you can write to USAA. You'll need to provide your account number, TIN and other information.
Make sure you use the correct mailing address to contact USAA. The return address on your monthly bank statement is the address of the mailing house. The address on the return envelope is the payment processing center. Look on the back of your paper statement or on your electronic statement for a physical address to contact to close your account. As of August 2022, the main mailing address for USAA is ​9800 Fredericksburg Rd., San Antonio, TX 78288​.