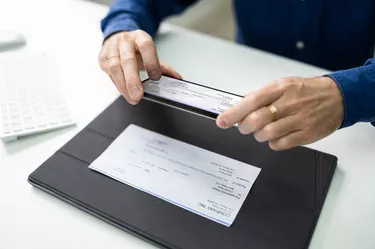 Closing a Chase Bank checking account requires you to gather a bit of information to go through the procedure over the phone, in person or by mail. You can't close your account by yourself online. Following a few simple steps, you should have no problem closing your account.
When you are ready to close your account, you might have a balance in it. Empty your account before you close it.
You can empty your account using a debit card (if you received one with your account) to make a withdrawal at an ATM, writing a check to cash or yourself and presenting it at your bank (or other check-cashing institution) or writing a check to someone else who can cash it for you.
You can also transfer money electronically from your Chase checking account to another account you have. This could take a few days, so make sure not to wait until the last minute to do this.
Depending on the date you close your account, you might have to pay any monthly fee billed to your account each month. For this reason, it's a good idea to call Chase and talk to a customer service representative before you zero out your balance.
In addition, make sure you don't have any recurring payments set up that draft from your checking account. This could include credit cards, utilities, auto loans, mortgages, subscriptions or other accounts you've set up to draft from your account each month. To avoid missing any annual recurring payments, review 12 months' worth of checking account statements.
Don't forget to notify anyone who has been paying (or is expecting to pay you) by making a direct deposit into your checking account. Reviewing 12 months' worth of statements might help jog your memory regarding who might try to pay you via direct deposit into this checking out in the future.
Call to Begin the Process
The quickest way to close your account might be to call Chase and have a customer service representative close your account. Have the following information ready for the customer service representative:
Your full name
Checking account
Your mailing address
Phone number
Social Security number
Current balance
Debit card number
Call 800-242-7338. Follow the prompts, which might include entering the last four digits of your account and your zip code. When you get through to a customer service representative, you might need to provide more information. Ask to close your account and follow the person's directions.
If you have a Chase bank branch near you, call to find out if you need an appointment to come in and close your account or if you can do it as a walk-in transaction. Find out what days and times account reps are not usually busy.
Go to the bank and ask to speak with a banking representative. Have your photo ID, checking account number, one copy of your checking account statement, your checkbook and debit card. You won't need all of these to close your account, but the more documents you have, the less chance there'll be that you don't have all the information the bank needs. For example, you might not need your checkbook, statement and debit card, but you will need your account information.
Once you close the account, your bank rep might offer to destroy your checks or debit card for you. Be prepared for a sales pitch before the closing process starts. The bank rep might have a script she is required to go through when customers ask to close an account. She might offer to waive your fees or offer other incentives for you to stay with Chase.
Go to the Chase bank website and log in to your account if you've set one up. If not, create an account. You'll need information such as your name, account number, the phone number associated with the account, Social Security number and mailing address.
Use the search tool and enter the word "cancel" or "close" or a phrase like "close my account."
As of July 2021, you can't close a Chase checking account online by yourself. You will be asked to schedule a phone call from Chase, which will take approximately two days to receive. Click on the Secure Message Center link to start this process. You can navigate directly to the scheduling page using this link. You can find more contact information using this link.
To cancel your account in writing, visit the Chase website to find their latest mailing address. As of July 2021, their customer service address was:
To send an overnight certified letter, use:
Different websites provide a variety of phone numbers and email addresses to contact Chase. Your monthly account statements might even have two addresses: a return address and a payment mailing address. If you can, call Chase to verify that the above addresses are the current ones to use.
You'll need to provide information relating to your account. The more the better (e.g. name, address, account number, last transaction amount, Social Security number, phone number).
Again, it's a good idea to contact Chase by phone first to make sure you follow the correct steps to cancel your account in writing. The customer service representative might be able to send you a form to fill out or direct you to a web page where you can download the form.