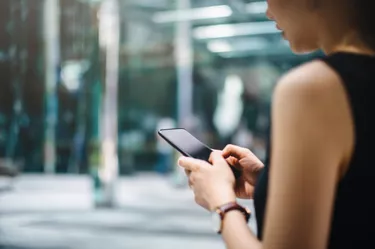 According to Fidelity's website, you can close one of your accounts using the Fidelity virtual assistant or call customer service. You should also be able to close your account by visiting a Fidelity office and might be able to start the process by writing a letter to the company. Reviewing how to properly close a Fidelity account will help you avoid problems that could cost you money in the future.
Visit Fidelity Investment's Website
To get started closing a Fidelity Investments account, visit the company's website and follow the instructions for closing your account. According to Fidelity's website (as of April 2022), you can only use Fidelity's Virtual Assistant to close a cash management or brokerage account, and it must have a zero balance before you can close the account.
You'll be asked for information such as your account number, Social Security number, address, phone number and email address. To close other Fidelity accounts, you'll need to call ​800-343-3548​, according to the website. If you have an employer-sponsored 401(k), however, login to Fidelity's NetBenefits website to see if you can close your account through that portal.
If you're not sure you understand the process of closing your account based on the online directions you've read, call Fidelity's customer support line so you can speak to a customer service representative who can help you through the process. Look for the customer service number provided on your monthly account statement, or call ​800-343-3548​. Follow the prompts until you get to a human.
If you'd like to meet face-to-face with a Fidelity representative and get printed confirmation documents immediately, find the nearest Fidelity branch office and make an appointment. You might be able to walk in and get a quick appointment with a customer care specialist. Make sure to bring an ID like a driver's license or passport, as well as one of your account statements. You'll also most likely need your Social Security number.
Fidelity won't let you close your account with a letter, but you can start the process that way, sending your information and providing your contact information. When a customer service rep calls you, she'll have all the information she needs to help you close your account. Look for the Fidelity mailing address on your monthly paper statement, or by doing a search on the Fidelity website. You might try mailing your letter to the nearest Fidelity branch.
Review the Ramifications of Closing
When you close a Fidelity account, you'll first need to empty it. That means cashing out a 401(k) or transferring the funds to one of your other accounts (which could include a personal checking or savings account). What you decide to do can have a big impact on your taxes. For example, if you cash out a 401(k), even temporarily, you might have to pay a penalty.
If you roll the money directly into another qualifying account, you can avoid these problems. That means that even if you transfer ​$50,000​ from your 401(k) to your personal bank account, and then put that $​50,000​ into an IRA or another 401(k) account, you might have to pay taxes or penalties – at least temporarily. In addition, your transfer might be delayed longer if you do a transfer this way. You can learn more about this at Fidelity's 401(k) FAQ page.