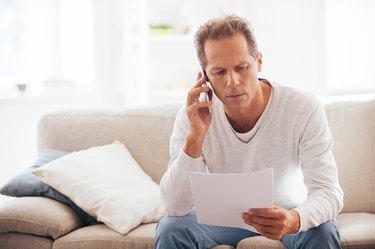 Tip
Keep precise records concerning your contacts when closing an account in case a dispute over account closure times or charges arises.
Fidelity offers a variety of investment accounts and financial services to their customers, including the ability to open a brokerage account, an IRA and a 529 account for education savings through their website. You cannot, however, close any Fidelity account online. Before attempting to close your account through the mail or over the telephone, gather together all of your paperwork, including documents specifying your Fidelity account name and your account numbers.
Close an Account by Mail
Step 1
Locate the Fidelity contact address on your account paperwork. If you cannot find the address, Fidelity's website provides a U.S. mailing address for sending documents. Different addresses are listed for the various account types offered.
Step 2
Prepare a letter specifying the Fidelity accounts you want to close. Include key identifying information, such as the date your account was opened, your account number, all persons listed on the account and your telephone number.
Step 3
Send in your letter. Include a form of confirmation, such as certified mail, to ensure that your correspondence is received. Request a signature if you want additional proof of delivery.
Step 4
Wait for confirmation from Fidelity regarding your account closure. Some accounts charge a fee when they are terminated and a statement is sent specifying this charge. Fidelity must also send you a payment for any funds remaining in your account.
Close an Account by Phone
Step 1
Find the phone number for your Fidelity account. This number should be printed on your account statements, but if these are not available, Fidelity's website lists contact phone numbers.
Step 2
Call Fidelity and state that you wish to close your account. Specify the type of account you are closing. Be prepared to confirm your identity with your address, telephone number, account number and the last four digits of your Social Security number.
Step 3
Write down the time and date of your phone call as well as the name of the representative you speak with at Fidelity. Write down any account closure charges that are to be deducted from your account as well as the balance of your account. If your account has funds, then the representative should provide you with a time frame for receiving a payment for the total remaining after any charges.