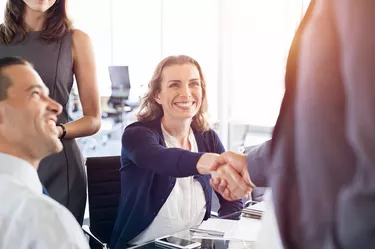 Fidelity Investments is one of the largest financial asset management companies in the world. It's a full-service firm based in Boston, and 401(k) plan management is just one of the several services it offers to small businesses. You might be considering the firm for your small business, or maybe your employer sponsors a 401(k) for you through this provider. In either case, it comes with a few pros and cons.
A 401(k) is a retirement savings plan that's sponsored by employers for their employees. Contributions made to the retirement account are invested. Employees reserve the right to decide how much money they want to contribute to the plan, and they can typically decide which of the available investments they want to take advantage of. For some high-income employees a Roth IRA might be a better bet for their financial well-being during retirement, so be sure to investigate your eligibility.
Contributions are made with pre-tax dollars and your employer will typically make matching contributions to this type of retirement plan as well. Contributions are deducted from your pay before tax withholding is calculated on what's left. But then taxes come due when you take withdrawals, presumably in retirement. Earnings on your investments are tax-deferred as well.
Fidelity offers numerous investment options that include stocks, bonds and managed portfolios. You'll have a choice between Fidelity and non-Fidelity mutual funds. You can invest in exchange-traded funds or ETFs as well if your employer selects this option when setting up the plan.
You'll have a somewhat wider choice of investments with Fidelity than with some other retirement plan providers, and you'll have control over which of them receives your money.
Fidelity also provides business and personal banking services and recordkeeping assistance, too, including account reporting to the IRS.
Fidelity Investments doesn't charge account fees or commissions and it doesn't require a minimum investment to open an account. But that's not quite as cut-and-dried as it might seem on the surface, at least if you're a small business owner sponsoring a plan for yourself and your workers.
Fidelity does charge administrative costs. These fees depend on the value of the assets held in the plan and the number of employees who participate in it. They can run from ​1.5 to 2 percent​ of the value of the assets. You can contact Fidelity Investments for a quote, or ask for one on its website.
Account Management Services
You can manage your Fidelity account online. The website is easy to use, and there are various mobile apps as well.
You can reach out for human help if you encounter a problem that the website app can't help you with. The firm provides call centers and it has "Investor Centers" sprinkled all over the country. It might take you a while to reach a customer service rep by phone, however, because of the significant size of the company.
You can make contributions to your account over the phone or by good, old-fashioned snail mail.
Advice and Advisement Services
Fidelity won't set you loose to sink or swim on your own if you're a novice investor, or even if you're a savvy investor but the market has turned volatile. Guidance with asset allocation and other issues is available from a team of professional advisors. You can also buy into robo-advisor help for a fee.
Is Fidelity Right for You?
Fidelity might be a good fit for you if you have more than 20 employees, but it's available to owner-only businesses as well, such as if you're a self-employed freelancer. You're not limited to having the firm simply administer and manage your 401(k) plan. It also provides business and personal banking services and recordkeeping assistance, too, including account reporting to the IRS.
The firm isn't accredited by the Better Business Bureau, but that can be because it simply hasn't requested accreditation. It does have an A+/BBB rating, and that's pretty encouraging. But it's received almost 600 complaints in three years.