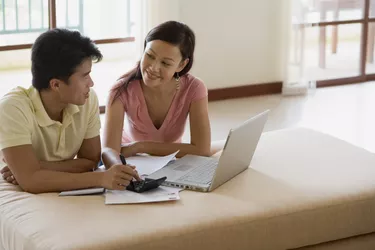 Most banks let their customers access and manage their accounts online. You can take care of tasks such as paying bills or transferring money without having to call or visit the bank. Banks that offer online access to bank statements require registration and some proof of identification. Different banks have different rules, but the process is typically straightforward.
Sign Up for Online Banking
Visit your bank's website and click the link to register for online access. You will have to provide your first and last name as it appears on your account. Depending on your bank, you will also have to provide other information such as your account number, ATM or debit card number and Social Security number. Create a username and password and provide any additional information required. Most banks email a verification message. Click the link in the message to verify your registration and return to the website.
Sign in to Your Account
Clicking on the verification link may take you to the bank's sign-in page. If not, locate the login section on the homepage. Type in your username and password in the appropriate boxes and click the button or link to log in. This should take you to an overview page containing links to the accounts you have at the bank.
View Statement
The next page displays links to the accounts you hold at the bank. Click the link for the account you want to check. This produces a page displaying your recent activity and your current balance. Many banks provide access to older statements as well. Follow your bank site's prompts to view, print or download these statements.
Accessing Bank Accounts Safely
Online banking is convenient but can make your account vulnerable to data thieves. Practice Internet safety tips when checking your account statement electronically. For example, you should log in from a secure network, type in your bank's address correctly so you don't end up on a phishing site and use a computer with updated anti-virus software and programs. Change your password regularly and contact your bank immediately if you notice changes to your account that you did not initiate.