Realizing that your bank account number has been compromised — or even worse, that a fraudster has already depleted the funds in your account — can be extremely frustrating. Even under these circumstances, however, your bank won't allow you to simply change your account number. Regardless of the reason for wanting to change account numbers, you'll always need to close the bank account and open up a new one.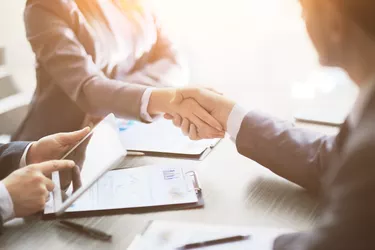 Withdraw Remaining Funds
Before you can close a bank account it must have a zero balance, which means you have to withdraw or transfer the funds. If you're the victim of fraud, the Consumer Financial Protection Bureau advises withdrawing the balance as soon as possible and notifying your financial institution immediately. You can accomplish this by visiting your local branch with proper identification and withdrawing the cash, taking the money out of an ATM, or requesting a bank check or money order. Alternatively, you can transfer the balance into a different account you have with the same bank, such as a savings or money market account. If you have access to online banking, initiating the transfer from your computer or other device may be faster than visiting a branch. If you have to speak with a bank representative to report suspicious activity in your account, you can protect the remaining funds by requesting stop-payments on any checks you're missing and deactivating your debit card immediately. Your bank also has a legal obligation to investigate the questionable transactions.
Close Your Current Bank Account
Procedures for closing bank accounts will vary from one financial institution to the next. Some banks, such as First Hawaiian Bank, require you to send a written request to your local branch in order to close an account. Other banks, like Wells Fargo, offer an easier process and let you close the account over the phone or through email. You usually can have your account closed the same day you visit a branch. When you use other methods, however, it may take a few days for the account to close — especially when closing it via email or the postal service.
Get a New Bank Account Number
Opening a new bank account is the only way to effectively change your bank account number. This can be done before, after or at the same time of closing your old account. Accounts can be opened in person at a bank in your community, but many banks let you open new accounts online and over the telephone.
Before heading to your local branch or navigating to your bank's online application, you'll need to have your Social Security number and driver's license handy. Once you're approved, you can fund the new account electronically from a different financial account, mail a check or money order, or bring cash down to the branch. If opening the account in person, you'll usually walk out of the bank with a new account number the same day. You may have to wait a few days to find out whether your new account application has been approved when applying online.