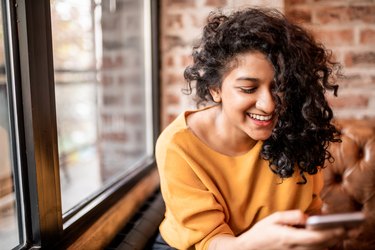 The United Services Automobile Association, commonly referred to as USAA, provides multiple services to active U.S. service members, veterans and their families, including financial planning, investment services, insurance needs and, yes, banking. Like everyone else, USAA members want to deposit money into their accounts – or have their employers direct deposit the funds – and they want to know when that money has cleared so they can use it. Fortunately, USAA makes the process easy.
USAA Banking Services
The banking arm of USAA is composed of the USAA Federal Savings Bank and the USAA Savings Bank. Your money is safe in either account because they're both FDIC insured. The banks offer the usual standard fare, from loans to free checking accounts, with more than 60,000 participating ATMs nationwide.
USAA Pending Deposits
Deposits to a USAA account can be made in person, at an ATM or with USAA's Deposit@Home. This tool lets you deposit checks using a mobile app. It accepts money orders, U.S. Treasury checks, cashier's checks, paychecks and personal checks. USAA also accommodates direct deposits from your employer.
Now, the downside: It can take as long as seven business days for the funds to become available in some cases. Processing will begin on the same day you make the deposit provided that you do so before 9 p.m. CT. Processing will begin on the next business day if you miss the 9 p.m. cutoff or make the deposit on a Saturday, Sunday or holiday.
USAA Check Deposit Funds Availability
You must state as part of your endorsement on the check that you're making a mobile deposit if you use Deposit@Home, and you should receive an immediate confirmation of the transaction. USAA hasn't accepted the check for some reason if you don't receive one.
You can reach out to USAA by phone if the deposit doesn't show up in your account balance and you received a confirmation. Just call 1-800-531-8722.
Your other option is to try to deposit the check again if you didn't receive a confirmation. Be sure to include that statement in your endorsement that it's a mobile deposit when you try again, because that could be the problem if you omitted it.
When a Deposit "Bounces"
Your options are more limited – or at least less streamlined – if your deposit bounces: You received a confirmation and the deposit was pending, but now the issuer's bank won't honor it. USAA indicates that you should not try to deposit it again in this case because it will result in a "duplicate deposit attempt." You'll have to resort to snail mail for help or physically go to a USAA bank location to fill out and submit an "Image Replacement Document" if you attempted the deposit through Deposit@Home.
Other Contact Options
Contacting USAA by telephone is probably the easiest way to check the status of your deposit, but you have other options as well. USAA doesn't offer an email contact, but you can bypass the toll-free line and call 210-531-8722 if you're not able to get through on the 800 line for some reason. USAA offers "shortcut" access as well if you're using your mobile phone: #8722. You can also fax USAA at 800-531-5717.
And if you have to resort to snail mail or pay a personal visit to a banking location, you can search for their nearest bank using the tool provided on USAA's "Contact Us" website.