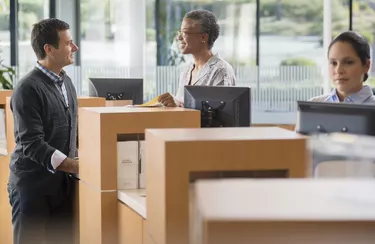 The major difference between a cashier's check and a regular bank check is that a cashier's check is a form of payment that's guaranteed by the bank or credit union it's drawn on, according to Huntington National Bank. It can't bounce, at least not for insufficient funds.
The financial institution will nonetheless want to be very sure that you're the rightful recipient of the check before it accepts it for deposit and credits it to your account.
How to Deposit a Cashier's Check
Depositing a cashier's check to your checking account or savings account isn't markedly different from depositing any other check. You'll write "for deposit only" on the back of the check and sign or endorse your name below that. You have the option of also entering your account number. You can write "for deposit only into account ABC123."
Depositing a Cashier's Check at the Bank
It might require a little travel time, but the most surefire way to make sure your cashier's check is deposited into your account without fuss is to take it to your bank. You might already have been provided with deposit slips for your checking account when you opened it or when you ordered more personal checks, but a bank employee might give you one to additionally fill out, citing the date, your name, your account number and the amount of the check.
HelpWithMyBank.gov indicates that some bank tellers will give you a special deposit slip that will clear the check and release a hold on the money by the next day, but this means the next business day.
Depositing Electronically via a Mobile App
You can usually make a mobile deposit of a cashier's check. This involves using your phone to snap a picture of the front and the endorsed and signed back of your check, then uploading the image to your bank via your mobile app. You'll want to be sure to include your deposit account number if you choose this option.
And "usually" is a key word here. Some banks, such as TD Bank, won't accept any checks for deposit via their mobile app unless you've held your account with them for 90 days or more. Bank of America requires that the check be issued by a U.S. financial institution and be payable in U.S. dollars.
You can also typically deposit a cashier's check at one of your bank's ATMs. The same process applies whether you're depositing this type of check or a regular check. You'll need your ATM card and you'll have to endorse the check for deposit, then follow the ATM prompts.
You might want to contact your bank and make sure first that you can make the deposit this way. USAA warns that not all of its ATMs accept deposits, but it provides a locator tool on its website to help you find one that does.
Questions About Cashier's Checks
Some FAQs about cashier's checks include:
Can I Deposit a Cashier's Check From Home?
You can download and use your bank's mobile app to deposit a cashier's check from home, just as you could with a regular check. Use your phone to take pictures of the front and the endorsed back, then upload the photos. You may not get overnight availability of the funds, however, if you don't visit a bank branch in person to get one of those special deposit slips.
Do Cashier's Checks Clear Immediately?
Banks can potentially place a hold on a cashier's check under certain circumstances. The full amount of the deposited check might not be available to you the next business day. This will probably occur if you deposit one or more cashier's checks totaling more than $5,525 on the same day, according to HelpWithMyBank.gov.
It might also happen if the bank or credit union has reason to suspect a scam, it believes that the issuing bank won't honor it, you're a new account holder who opened your account within the last 30 days or you have a history of frequently overdrawing your account. It can depend on the bank.
Can a Cashier's Check Bounce?
Cashier's checks are bounce-proof because they're not technically drawn on an individual's or business's bank account. They're guaranteed by the issuing bank, according to Capital One. The issuing party typically can't stop payment on the check, either.