Generally, cashier's checks are more secure than traditional checks as they are backed by the bank or financial institution that issued them. There are several occasions when requesting payment by cashier's check makes sense. If you are landlord, you may ask a new tenant to provide first and last month's rent, along with a security deposit, in the form of a cashier's check. Another time when a cashier's check would be favorable is when you opt to privately sell your vehicle. Once you receive a cashier's check, you'll want to deposit it so the funds can be credited to your account.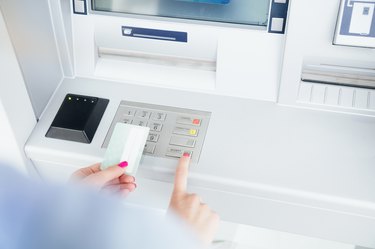 Visit Your Bank Teller
Head to your bank's local branch office and have the teller deposit the cashier's check for you. You'll need to sign the back of the check and write your account number directly below the signature. The teller also might ask you to fill out a deposit slip that includes the date, your name, your account number and the check amount. This type of deposit is subject to next-day availability, which means you'll have access to the funds one business day later. If the cashier's check was for issued for more than $5,000, it will take a few more days for any amount over $5,000 to be available for use.
Submit the Check Electronically
If you don't have time to visit your bank in person, you can deposit your cashier's check electronically. Download your bank's mobile app to your phone or tablet and then link your account. Once you log in with your username and password, you'll be able to take a photo of the front and back of your cashier's check and upload it for deposit. Make sure you sign the check and write your account number under the signature before you snap the photo. Always check your bank's mobile deposit rules. Institutions such as TD Bank, for example, require customers to have an account for at least 90 days before they are eligible to use mobile deposits.
Use Your Bank's ATM
If you prefer to deposit your cashier's check directly with your bank but can't make it during office hours, you can use the bank's ATM. Simply insert your ATM card so the machine recognizes your account and select the deposit option. Place your check in the appropriate slot and the machine will do the rest of the work for you. Before finishing the transaction, request a receipt. Some banks print a picture of the cashier's check right on the receipt, so you will have proof you made the deposit.
Beware of Scams
While cashier's checks are safer than traditional checks, they are sometimes used in scams. If an individual gives you a check for more than your asking amount and requests that you wire the excess back, beware. Another common scam comes when you receive a letter stating that you've won the lottery or come into an inheritance. Along with the letter is a cashier's check to cover the associated fees. You are directed to deposit that check and wire the money to another party. Unfortunately, the cashier's check is fraudulent and by the time the bank realizes it, you've already wired the money.