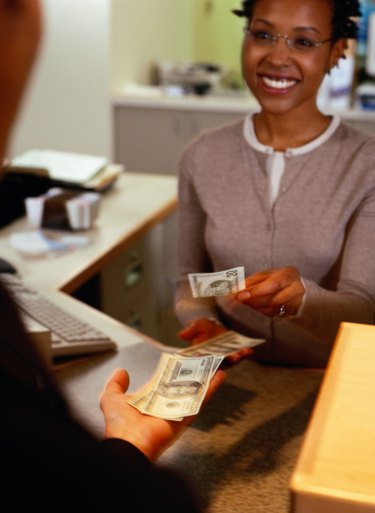 United Services Automobile Association (USAA) is a financial services company serving past and present members of the U.S. military. USAA offers a wide variety of products, including banking, life insurance, property insurance and investment planning. Unlike most traditional banks, USAA has an extremely limited number of physical branches, conducting most of its business by phone, mail and through the Internet. Due to its relative lack of a brick-and-mortar presence, USAA has been an innovator in electronic and computer-based banking.
Step 1
Open a USAA account. Although most USAA services are limited to clients with some connection to the U.S. military, the company does allow other individuals access to investment products, including most checking and savings accounts. You can open a USAA account online, on the phone or by mail.
Step 2
Make your initial deposit. According to USAA, you must make your initial deposit at the time you open your account. You cannot mail in your initial deposit at a later date. If you have an existing bank account, you can transfer funds from the account when you complete your online application. You can also fund your account using a cash advance from any USAA credit card or from a non-USAA MasterCard.
Step 3
Use USAA [email protected] After your initial deposit, you can make subsequent deposits to your account from home using your computer and scanner. Once you log on to your USAA account, you can sign and scan any check deposits and get immediate confirmation of your deposit.
Step 4
Set up direct deposit. You can arrange to have your employer make automatic deposits to your USAA account by filling out your employer's direct-deposit paperwork. Usually, this will simply involve providing your employer with your USAA account information.
Step 5
Transfer funds from your bank. You can link your USAA account to any other bank account and transfer funds when you want.
Step 6
Mail in your deposit. USAA offers free prepaid envelopes to customers for deposits. USAA credits deposits the day it receives them.
Step 7
Deposit using a cash advance. As with your initial deposit, you can make a deposit at any time to your USAA account using a cash advance from any USAA credit card or any non-USAA MasterCard.