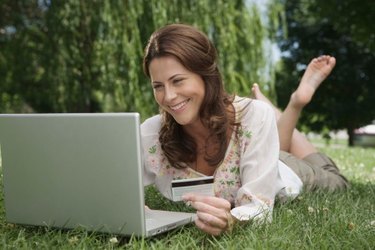 USAA is an insurance and financial services group open to membership to active and former U.S. military personnel and their families. USAA provides a convenient way to combine insurance and banking in one place. You can use USAA exclusively if you prefer, as they offer the full spectrum of financial services, from banking to home loans and IRAs. However, you may have external bank accounts you want to retain. Whether it is another checking account or an investment account, you can link it to your USAA account and make transfers directly to and from all your accounts using the USAA website.
Step 1
Go to usaa.com. Select "my accounts" and from there, select the "transfers" drop down. Select "add an account."
Step 2
Enter your external account information. You will need the account type, the account number and the routing number.
Step 3
Check your external account. USAA will make two temporary deposits of less than a dollar each into your external account. The charge will be called "TRIALCREDIT." This will usually occur within two days of adding an external account.
Step 4
Return to USAA and enter in the amounts of the deposits. USAA will then make a withdrawal from your external account in the amount of the total of the two deposits, so there will be no change to your account balance. Your account will now be verified and will be available in the drop-down menu in the banking section for transfers.
Tip
Always be careful to enter account and routing numbers exactly.
Warning
The process of adding an external account will take a few days. Once added, transfers usually occur within one business day. This is not an ideal choice if you need to transfer funds immediately.