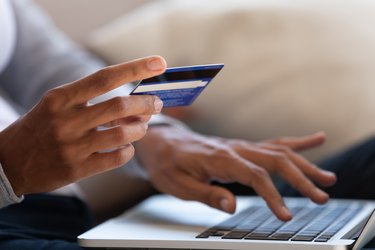 Credit card companies like USAA partner with card issuers like American Express and Visa and offer perks like cashback and points to use toward travel and retail purchases. However, USAA credit cards are only available to military members and families. Their website lists the different cards available, including their USAA Rewards American Express Card and their USAA Rewards Visa Signature Card. Both currently have the same variable regular APR (​9.9 percent to 25.9 percent​) and redeemable USAA Rewards points.
USAA Rewards Service Center
The USAA website explains that cardholders earn USAA Reward Points depending on the type of rewards card they have. For example, they can choose from a Visa and a Military Affiliate Visa. The type of purchase the cardholder makers also dictates how many points can be earned. Dining and gas purchases earn two points for the Visa and one point for the Military Affiliate Visa; all other purchases earn one point for both cards.
There is no limit as to how many points you can earn. These USAA Reward Points may be redeemed for airline ticket purchases, cruise ticket purchases, merchandise and gift cards, charitable contributions (to participating charities) and cash rewards that are credited to your credit card account or USAA checking and/or savings accounts.
To see what your Reward point balance is, go to the USAA website and visit their USAA Rewards Service Center; only members have access to this. You will need to enter your user name and password. You can also call them at 1-800-980-USAA (8722).
USAA Rewards Points Eligibility
USAA offers a range of financial products and services and is known for providing military members and their families some nice perks, like free USAA membership and access to their credit card rewards program. Membership is open to active-duty personnel, enlisted personnel, Reserve and National Guard officers, veterans with honorable discharges, immediate family members, certain officer candidates, contracted cadets and midshipmen.
To qualify for a USAA credit card, you have to apply to be a member online and provide your birth date, Social Security number, contact information and any information about your (or a family member's) military service. Once you have been accepted, you can then apply for one of their cards and see what other types of products and discounts they offer.
The top military credit cards that offer points include two of the USAA Rewards credit cards. Cardholders earn points and rewards on qualifying purchases, but not on cash advances, balance transfers, tax payments, truck stop transactions, finance charges and other nonpurchase charges. This is common with all credit cards that offer these kinds of perks.
More About USAA Rewards Points
If you want to redeem your points for airline travel, you will have to book it through the USAA Service Center – they work with most airline carriers. However, if you do not have enough points to cover the cost of the ticket(s), you can pay the difference or charge it to your card.
There are other rules that apply, though, so be sure to read them and ask as many questions as you need to when booking. Their Cruise Travel Rewards work a bit differently. This is done through a rebate that will be credited (in five to seven business days) to your account after booking.
As for redeeming gift cards, the selection varies throughout the year, so you can go online anytime see what is available. The amount of points required for cash rewards also varies, so make sure to visit the Service Center and check current redemption levels. If you want to make a charitable contribution, the USAA Rewards Center lists their participating charities, which can also change from time to time.