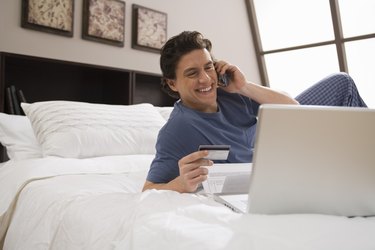 USAA credit card holders are automatically enrolled in its reward points program, and finding these reward points is easy. Rewards credits appear 45 to 60 days after qualifying transactions. You can redeem points for cash, gift certificates, merchandise, cruises and airline tickets. You can also donate points as cash gifts for certain charities. Current point status is available online and elsewhere.
Earning Points
You earn one point for every qualifying dollar for every net purchase made with the card. "Net" generally refers to the actual purchase price. Money spent for taxes, fees, cash advances, wire transfers, lottery tickets, loan payments, credits or returns do not qualify for points.
Redemption
To redeem points, call 1-800-980-8722 between 9 a.m. and 8 p.m. EST weekdays. You can also redeem points online at usaa.com. Since all point redemptions are final, you must decide beforehand what you'll use them for. The USAA website lists available merchandise, tickets and other redeemable products, along with the points necessary to obtain them.
Check Points
Your current point status appears on each credit card statement regardless of how you pay your bill. You can also check at usaa.com, which also lists redemptions. You must create an account and log in to access the website.