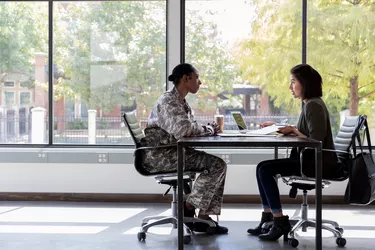 The United States Army Automobile Association (USAA) has 16 offices nationwide and three international offices in London, Frankfurt and Luxembourg. If you're looking for a USAA agent in your city or state, it should be easy to find one. The organization has more than 36,000 employees in the U.S. and overseas. Follow these steps to schedule a meeting or contact an agent by phone.
Tip
Customers may contact USAA by phone or visit a physical office to speak with an agent. The organization's website features guides, articles, videos and other resources that should answer your questions. If you need help, use the chat feature to speak with a virtual agent online.
USAA has been offering financial products and services since 1992. In 2020, the organization had over 13 million members worldwide. Its offering is aimed at U.S. military members and their families. Veterans, cadets and midshipmen may join USAA, too. Registration is free – you just need to meet the eligibility criteria and fill out an online form with your name, date of birth, contact details and other identifying information.
The association has offices in Texas, Arizona, Colorado, New York, Maryland, Florida and Virginia, and it's planning to open a new branch in Charlotte, North Carolina. Three of its offices are located in Texas. To find the nearest USAA location, head over to the company's website and click Corporate Info and Media at the bottom of the page. Select Corporate Overview and then click Learn More under Corporate Offices. Choose a location on the map and call the phone number provided.
Another option is to join USAA, select the products or services you're interested in and then complete an application form. Chances are, you'll hear back from a USAA agent within days. Members can also contact a representative by phone. For example, if you are interested in life insurance, you may call 800-531-5433 to discuss your needs or request more information.
USAA has a phone number for general inquiries, too. Simply call 800-531-822 and ask to speak with a USAA agent, or contact specific departments, such as Investments or Shopping and Discounts. If, say, you want to apply for a mortgage, you may call 800-531-0341. Members also have the option to send messages online or chat with a virtual agent. Customers who wish to open a checking or savings account, take out a loan or apply for a credit card may call the company's main phone number.
The organization doesn't sell its products through independent agents. However, you can visit a local branch or call customer service if you need help. Its employees are trained to assist customers with insurance-related inquiries, claims, loan applications and more. Make sure you also read the information available for each product or service. The organization's website features detailed guides, videos and other helpful resources.
Don't forget about the chat feature, as it may come in handy when you need specific information. Go to the company's website and click Help. Next, you'll have to answer some questions about your membership status and the products you're interested in. A virtual agent will direct you to the relevant page. If you still don't find the information you need, contact USAA by phone.
USAA is making efforts to become a digital company. Many of its services can be accessed online, eliminating the need to meet an agent or visit a physical office. Members can open a bank account or apply for a mortgage with just a few clicks. Likewise, they can purchase insurance products or make investments online via the company's website.