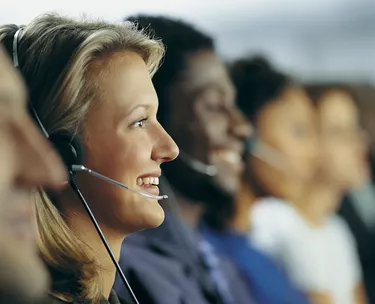 Equifax is one of three major credit-reporting agencies in the U.S. It offers various credit-related products and services in addition to credit reports. The company provides various contact methods for customers, including the option of talking to a live person rather than navigating an automated system. Equifax lists this information on its website.
Equifax Products
The service number for customers who have purchased Equifax products is hidden from public view. If you need to speak to a representative about a product, log in to your account to see the number.
Your Credit Report
To dispute information on your credit report, call the number on the form. This number changes every month, so call as soon as possible. You may also send a letter to Equifax Credit Information Services Inc., P.O. Box 740241, Atlanta, Georgia 30374. To file a dispute online, click on "Customer Service" on the "Personal Solutions" tab and click the link in the "Dispute information in my credit report" section. Call 1-800-685-1111 if you were denied credit or you are entitled to a free report. To place a fraud alert on your credit report, call 1-888-766-0008. You can place, temporarily lift or permanently remove a freeze on your credit report online. Proceed to the "Customer Service" page and click the "Visit Security Freeze" link.
Business Solutions
If you are interested in becoming an Equifax business customer, you may call 1-888-202-4025 for information about the company's business products. For a preview of this information, click "Customer Service" on the "Personal Solutions" tab and click the link on the "To become an Equifax business customer" section. For other information, click on the "Small Business" or "Business" tab and click "Contact Us." This page allows you to choose your topic from a drop-down list. If the information you need is not available online, the page will generate fields for your contact information. Complete them so an agent can contact you.
General Contact Information
Equifax provides answers to various questions on its frequently asked questions page. If you are unable to find the information you need on the website, you can contact the company by phone at 1-800-685-5000 or you can send a letter to the same Atlanta address that handles credit disputes. Media representatives may find numbers for the company's public relations officers on its "Media Contacts" page. To access this page, click the "About Us" tab and select "Media Contacts."