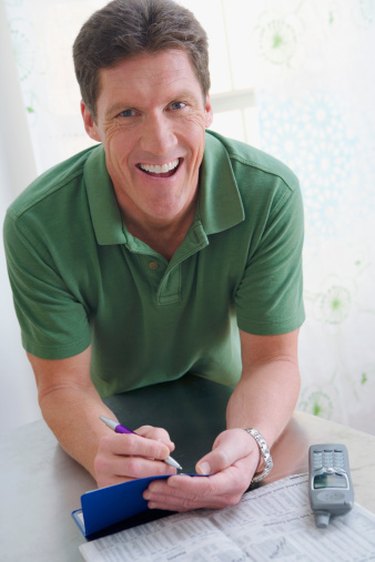 Most banks, merchants and financial institutions utilize ChexSystems or TeleCheck to verify whether an individual has a history of writing bad checks or frequent overdrafts. When a merchant reports an individual to either TeleCheck or ChexSystems, the report generally stays active for at least five years. Once ChexSystems or TeleCheck receives an individual's name, that person is prevented from opening a bank checking account at member banks while the report is active. Obtain an annual file report from both of these companies to check the status of your name.
TeleCheck
Step 1
Contact the TeleCheck customer service department or submit a written request to obtain a TeleCheck file report.
Step 2
To request a report by phone, call 800-366-1048 and advise the representative that you are calling to find out if your name is listed in the TeleCheck system. Verify your identification by giving the customer service representative either your Social Security number or your driver's license number. Once your information is verified, the TeleCheck representative will tell you the status of your name over the phone.
Step 3
Request a TeleCheck file report by submitting a written request to:
TeleCheck Services, Inc. Attention: Consumer Resolutions-FA P.O. Box 4514 Houston, TX 77210-4514
Include copies of personal documents to verify your identity, such as a voided check from your personal checking account, driver's license or state-issued ID card, daytime phone and your utility bill.
ChexSystems
Step 1
Visit ChexSystems online or call the customer service department to obtain a copy of your file report.
Step 2
To get your report online, go to ChexSystems' website at consumerdebit.com and click on the "Order Consumer Report" located on the left side of the home page. Read the "Terms and Conditions" and click "Agree" to receive your consumer report within five business days via U.S. mail.
Step 3
To request a report by telephone, contact ChexSystems customer service department at 800-428-9623. Tell the service representative that you want to find out if you owe ChexSystems. Give the representative your name and either your driver's license number, state-issued ID number or your Social Security number to verify your identity.