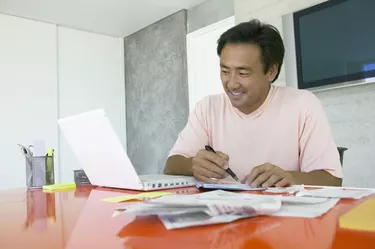 The United Services Automobile Association offers a broad range of financial services to current and former members of the US military. Established in 1922 by a group of Army officers, the firm originally offered only auto insurance. Since then, it has grown into a Fortune 500 firm that offers, in addition to auto insurance, mortgages, brokerage accounts, credit cards, checking accounts and other financial services. USAA enjoys an excellent reputation and loyalty among its members is extremely high. There is no formal complaint process, but if you're disappointed with any element of USAA's service, the company offers several ways to address it.
Step 1
Register your complaint by phone. Call 1-210-531-USAA (8722) or toll-free 1-800-531-USAA (8722). You can also dial #USAA from your cell phone. The company has a fairly comprehensive voice-mail menu system, but you can quickly contact a live person by saying "Representative" or pressing "0." The customer service representatives are very knowledgeable and helpful. If they cannot personally resolve your problem, they can connect you to someone who can.
Step 2
File your complaint online, in writing, by accessing the USAA website (see Resources). Click on the "Contact us" tab near the top of the page and and select "Contact and Support Center" from the pull-down menu.
Step 3
Look through the different services on the screen to identify the one about which you want to file a complaint. Click on your selected category. If you want to make a general complaint, click on "Other Services." Click on the email correspondence link that appears.
Step 4
Write or type your complaint for mail delivery to USAA's headquarters in Texas, if you prefer. The company's mailing address is 9800 Fredericksburg Road, San Antonio, TX 78288. On the outside of the envelope, you may indicate the department or service you're writing about, but even if you don't, it will be routed to someone who can handle your complaint.
Warning
Do not disclose any sensitive information via email, such as an account number or Social Security number, because the transmission is not secure.