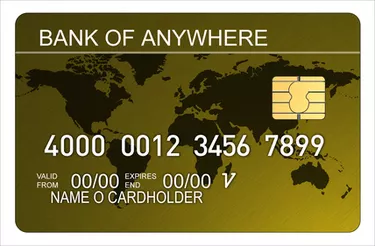 A person that you authorize to use your JCPenney account is referred to as an authorized user. This person can make charges on the account but cannot make changes to the account, request account information and is not responsible for repayment of debt accumulated on the account. In addition to having use of the card, the authorized user may receive a boost to his credit score as long as your JCPenney account remains in good standing.
Step 1
Gather the personal information of the person you would like to add to the account, such as her name and Social Security number. Have this information readily available when you speak to a JCPenney representative.
Step 2
Locate the customer service phone number for JCPenney. You can find this number on the back of your credit card or at the JCPenney website.
Step 3
Call the customer service line and inform the rep that you would like to add an authorized user to the account. According to JCPenney, contacting customer service is the way to add someone to the account.
Step 4
Review then sign the Additional Cardholder Authorization form that JCPenney sends to you via mail or email. By signing this form, you accept responsibility for any charges made by the authorized user on the JCPenney card.
Step 5
Mail or fax the completed form back to JCPenney. If using the mail, make sure you send the letter via certified mail, return receipt requested to ensure that it was delivered to the correct address.
Step 6
Check your mail over the next three to four weeks to ensure the new card arrives. It will bear the name of the authorized user and must be activated prior to use. If the card doesn't arrive, contact JCPenney customer service.
Tip
You can use your online JCPenney account to monitor any charges made by the authorized user.
Warning
Late payments made on the JCPenney card will appear on your credit report as well as the credit report of the authorized user.
Things You'll Need
JCPenney additional cardholder authorization form

JCPenney customer service number

Personal data of authorized user