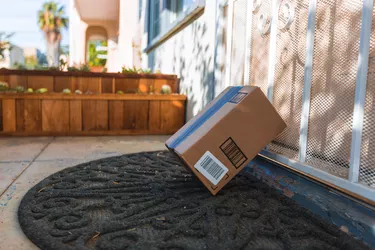 If you have a tracking number for your FedEx package, you can track it easily through the FedEx website. But if you lose that tracking number or simply don't know what it is, locating your package during its travels will be a little more complicated. If you don't have a tracking number, you can ​contact customer service​ to request FedEx tracking by address, or you can set up a long-term solution that will always notify you when a package is set to arrive.
Track Package Without Tracking Number
A tracking number comes in handy when you need to locate the status of your FedEx shipment. If you have it, you can ​plug it into the tracking ID box on the FedEx site​. However, you don't have to have a tracking number to get an update on your package. If you have a ​door tag, order number or reference number​, you can use that information to track your package.
​Delivery Manager​ will track packages and alert you when you have something scheduled to arrive. To sign up, you can simply register online.
What if you have none of those things? FedEx tracking by address is available, but you can't access this information online. You'll need to contact FedEx customer service ​during regular business hours​ and have a customer service representative give you an estimated time of arrival for your package.
There's a long-term solution that will help you know exactly when an item is arriving at your location. ​FedEx Delivery Manager​ will track packages and alert you when you have something scheduled to arrive. To sign up, you can simply register online.
In addition to delivery alerts, FedEx Delivery Manager will also let you manage your deliveries. If you want a package delivered to your back door instead of left on your front porch, you can log in and set this up. Even if you have a FedEx lost tracking number or the sender didn't provide one to you, you'll have visibility into when your packages will arrive once you've signed up for the service.
If you run a business, you probably want a way to monitor all your packages or payments made via FedEx on an ongoing basis. You won't have time to keep up with tracking numbers or run FedEx tracking by address, so it's important to have something in place you can depend on. ​FedEx InSight​ is designed for customers who have an account number set up with the company, so it's more of a commitment than FedEx Delivery Manager.
InSight will give you email notifications of deliveries and delays, as well as offer you the opportunity to view the status of any package. If you aren't dealing with a FedEx lost tracking number, you can also input that information and get status updates. Best of all, you can export the data into reports and use them in other applications.
One of the biggest frustrations about package delivery is that it generally arrives during regular working hours, when most people aren't home. Then you not only have to track packages that require a signature and go out of your way to pick them up, but you may also have to worry about someone stealing them. FedEx now allows you to ​redirect your packages to a secondary location​ that probably has more flexible hours than FedEx's delivery trucks.
To take advantage of this service, you'll first need to sign up for FedEx Delivery Manager. You can then sign in and redirect any packages to an available location near you. Participating locations include ​Walgreens, Albertsons and FedEx Office​, among others. If you use a service like this, you also won't have to worry about a lost tracking number since you'll always be able to log in and see all the packages coming your way.