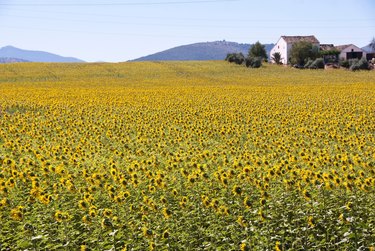 Rural route addresses are largely outdated now that Enhanced 911, or E911, systems are common across the country. When 911 databases are created or expanded rural route addresses are replaced with street addresses with up to four digits. According to Dispatch Magazine the street address of a resident's phone account is needed to send the appropriate emergency agency to a specific location and to determine where a call comes from if an address is not provided. Once you determine the actual street name of the rural route, you can begin collecting information to pinpoint its physical address.
Determining Street Addresses
Step 1
Visit the rural route location you are inquiring about. Use a county map to guide you to the right location. Note which town it is in and which cross streets are in the vicinity.
Step 2
Document your observations at that location. Note if any other buildings in the vicinity have house numbers. Write down a description of other nearby buildings and whether there are any landmarks or bodies of water in that area.
Step 3
Enter the street and town name, rural route number or building numbers you noted during your visit into an online map site such as Google, Yahoo or Bing. See if it offers aerial or street-view images, and note if a street address comes up when the property is shown on your screen.
Step 4
Stop at the county tax mapping or real property office. Share the information you collected on the rural route location. Employees there should have maps and images of the parcel that matches your description and can tell you its actual street address.
Tip
Consider calling the 911 dispatch center to ask if they can tell you the actual street address for a rural route, as they have it identified in their system. Be sure to call only the administrative or non-emergency number.
Things You'll Need
County map

Access to county office building

Internet access