Finding a property's parcel number by address is easy, if you know where to look. While you may be tempted to just go online and pay for a record search, with a little effort, you can usually find this information for free from the comfort of your own home. Many different agencies, offices and government entities maintain property records, but knowing the property address will make finding the parcel number that much easier.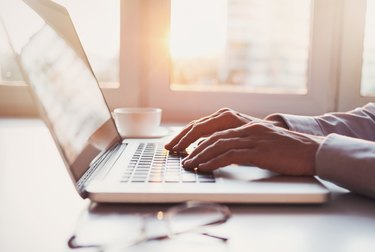 What Is a Parcel Number?
A property's parcel number is also known by several other names that vary by the jurisdiction in which it is recorded. When conducting your searches, you may run across terms like assessor parcel ID number (APN), parcel ID number (PIN), folio number, or assessor identification number (AIN). These names all refer to the same number, which is assigned to a property for tax purposes by county tax assessors. Each number is unique to a specific property or parcel, and based on location.
Where to Look First
First, you need to know which office handles property records for the area in which the property is located. Try the county courthouse, county recorder, city hall as well as the county assessor and county auditor offices. Many of these have online databases you can search using different parameters, including full or partial addresses. If for some reason the office does not maintain online records of properties in its jurisdiction, you will be able to find contact information to call directly, or an address where you can stop by in person.
Non-Governmental Property Searches
Sometimes you need a parcel ID number, and you may not want to go into an office to get it if it is not available online. When you don't have the inclination to do the possible legwork involved with obtaining an address' parcel number, you can also search for parcel IDs through reputable online databases. Because property data is a matter of public record, you don't need to pay to obtain them, but some online property searches do charge a fee. However, with a little extra effort, you can locate a property's parcel ID number on your own, and save yourself a bit of money in the process.
The Nationwide Environmental Title Research company's website has a searchable, nationwide public records directory that takes you to the county tax assessor's website or contact page where you can begin your search. This search is free, and while it does not directly provide you with the parcel number, it will let you know which office you need to contact. With any luck, the office maintains an online database, and you should be able to easily find a parcel number by the address.